NASHVILLE, Tenn. — The Tennessee Titans hosted about 5,000 season ticket holders at lunch and dinner banquets on Tuesday that featured question-and-answer sessions with new coach Ken Whisenhunt.
The Titans' ownership group, including President and CEO Tommy Smith and Co-Chairmen Susie Adams Smith and Amy Adams Hunt traveled from Houston for the Season Ticket Member Appreciation Bash that was also attended by general manager Ruston Webster, board member Kenneth Adams, IV and Nashville Mayor Karl Dean at the sparkling Music City Center that opened in May 2013.
Whisenhunt participated in talks led by "Voice of the Titans" Mike Keith and took questions submitted by audience members. He said he enjoyed the opportunity to see enthusiasm from fans, share his appreciation for their passion and let them know how valuable he thinks their role will be this fall.  
"I think it speaks volumes about the excitement of our fans about this team, and it's an important thing," Whisenhunt said. "I'm glad to be a part of (the event). I think it's really important that you make an effort to connect to the fan base because they're such an important piece of what we're trying to get done. I think it's really invigorating to come here to this and see all the fans and feel their support. That's an important message for our team. You can say what you want about what they play for, but when you have a fan base that really supports you and you get this kind of enthusiasm, it makes a big difference."
About 1,700 attended the lunch that also included meet-and-greets with new offensive coordinator Jason Michael, kicker Rob Bironas, punter Brett Kern and safety Michael Griffin, Titans cheerleaders and mascot T-Rac. The crowd doubled to approximately 3,500 for the dinner that included meet-and-greets with LB Patrick Bailey, LS Beau Brinkley, QB Ryan Fitzpatrick and FB Collin Mooney and an appearance by new defensive coordinator Ray Horton.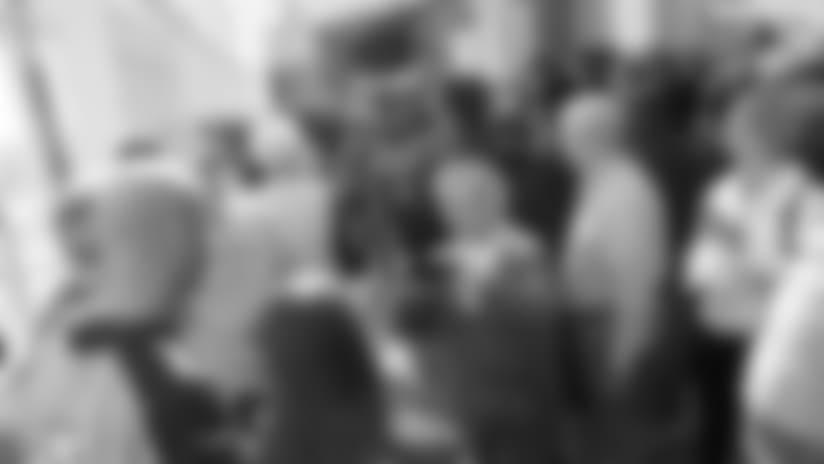 ](http://www.titansonline.com/media-center/photo-gallery/Season-Ticket-Member-Appreciation-Bash/f0c91c37-8804-474a-80d6-4fca939a43c8)
The Titans enjoyed hosting fans for a Season Ticket Member Appreciation Bash that included meet-and-greets with players and question-and-answer sessions with new coach Ken Whisenhunt.
Click here for a slideshow from the event at Music City Center.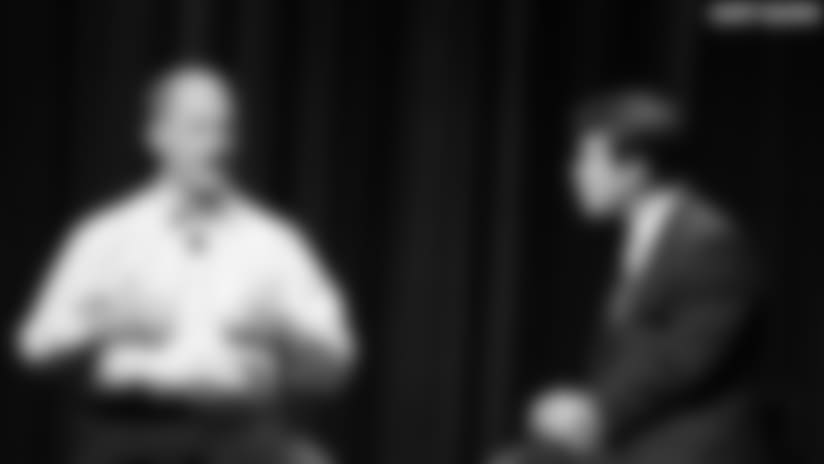 ](http://www.titansonline.com/media-center/photo-gallery/Season-Ticket-Member-Appreciation-Bash/f0c91c37-8804-474a-80d6-4fca939a43c8)
Some fans had met players previously and enjoyed the opportunity to catch up, and others were excited about the up-close interaction for the first time, posing in pictures, receiving autographs, shaking hands and giving high-fives.
Don MacLachlan, executive vice-president of administration and facilities, said the events were "a great way of engaging with our fan base" in continuation of other events the Titans have held for season ticket holders that included focus groups, tours of LP Field and dining events last spring that overlapped with the Academy Sports Outdoors Titans Caravan.   
"This was a way we looked at the opportunity from Tommy Smith and ownership," MacLachlan said. "What they really wanted to do was give our season ticket holders an opportunity to come to a wonderful facility like this at the Music City Center, have a first-class event and hear directly from Coach Whisenhunt."
"There's certainly a lot of interest around Coach Whisenhunt and the class that he's brought to the organization, of course taking the Cardinals to the Super Bowl and the history he's had with the Steelers (as an assistant coach)," MacLachlan added.
Fitzpatrick said he could tell that fans were excited in hearing from Whisenhunt, who was hired on Jan. 13, after one season as San Diego's offensive coordinator and the six previous seasons as Arizona's head coach.
"I think anytime there's something new, something fresh that generates excitement and from all the discussion out there, smiling, taking photos and kissing babies and all that, there was a lot of excitement and you could just feel that 'Whis' has generated a lot of it, in terms of his track record and some of the things he's been able to do, but the fans here are great," Fitzpatrick said. "That's something I noticed throughout last year and they're excited for this next season to get started."
Coaches and players must wait until April, per rules in the NFL's collective bargaining agreement, to have meetings and begin the offseason workout program. Fitzpatrick, a native of Arizona who previously knew Whisenhunt, said players are balancing enjoyment of their time off with their eagerness to learn the new system.
"Being in the NFL for a while, I know that there's plenty of time for that so we're also enjoying our offseason, getting to spend a lot of quality time with our families," Fitzpatrick said. "I think everybody will show up excited and ready to go, but also take advantage of the time they have right now."          
In addition to Tuesday's event, MacLachlan said the Titans are working on other fan-friendly initiatives, such as a new concessions agreement, improved in-stadium connectivity for mobile devices, an expanded service component of the ticket office and offering single-game tickets for purchase in April when the 2014 schedule is released.
As for Whisenhunt, he left Nashville after the dinner for Indianapolis to be in place for the beginning of the NFL Scouting Combine on Wednesday. MacLachlan said he and the Titans appreciated the commitment from the coach to fans who have sold out all 154 games since LP Field opened in 1999.
"We absolutely want everybody to get a chance to know Coach. I think Tommy Smith and Ruston Webster would tell you that he's exactly what we wanted here in Tennessee and he's doing a fantastic job," MacLachlan said. "To offer his time to us twice today … he's committed to the fans. He's said he wants to make sure he engages with the fans and gives our fans a product that they're very proud of and that the players get more engaged, so it's really a matter of getting familiarity with our fan base."