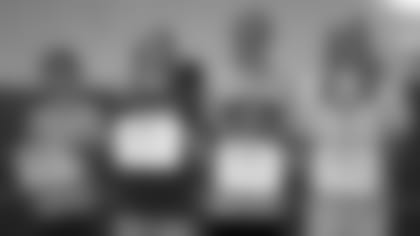 For the sixth consecutive year, the Tennessee Titans hosted the sectional portion of the NFL's Punt Pass and Kick event on Oct. 17. In PPK, boys and girls ages 8-15 are able to compete in punting, passing and kicking drills that showcase their athletic abilities.
Held on the expansive practice bubble at Baptist Sports Park, children competed on the same fields where the Titans hold weekly walk-throughs and practices. With over 80 kids in attendance in addition to their siblings and parents, there were oohs and ahhs about being on the same field players like Rob Bironas, Chris Johnson, Kyle Vanden Bosch frequently practice. Volunteers from Chattanooga Parks and Recreation coordinated the event by handling the registration, logging all distances and the presentation of the day's winners.
The PPK and program was established in 1961 to allow boys and girls the chance to showcase their football ability. Each contestant has one opportunity to throw a pass, kick off a tee and punt a football; all being graded on both distance and accuracy.
"It's really an honor to have the support of the Tennessee Titans for such a worthwhile and impactful youth football initiative," said Chattanooga Parks Sports administrator Richard West who coordinated the event. "The kids that participated today will remember the day they spent at the Titans facility, for the rest of their lives, whether they received a medal or not today."
The day's winners will wait to see if their scores were high enough to earn the right to compete in the PPK regional trials that will take place on Nov. 29, 2009 prior to the Titans – Cardinals matchup at LP Field.