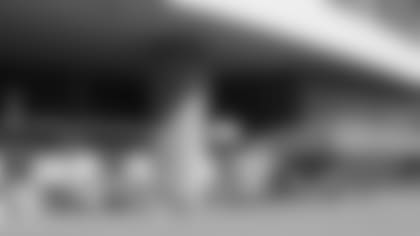 Click here for video!
NASHVILLE, Tenn. --** The Tennessee Titans will put approximately 3,000 tickets available for eight regular season games and two exhibitions Saturday morning.
Coming off a 13-3 season that was the NFL's best, the Titans are curious to see if they can extend their sellout streak despite a struggling economy in a state with double-digit unemployment. The first 104 games at the stadium now called LP Field sold out.
Tickets can be purchased by visiting the ticket office at LP field, calling Ticketmaster at 1-800-745-3000, visiting any Ticketmaster outlet, or logging on to the Ticketmaster web site at **Ticketmaster.com*.*
"If we can get to 114, that would be fantastic," said Don MacLachlan, the team's executive vice president of administration and facilities. "We just want to make sure they go. With the economy, we don't know how fast they'll go. I do believe fans who were not able to get tickets in the past will have a much better chance."
That's about the same amount of single-game tickets the Titans have put up for sale in previous years, and MacLachlan credited a strong renewal of season tickets for keeping that number low.
"We're so appreciative it almost goes beyond words, especially when you consider the economic times that we're in right now," he said.
In previous years, the Titans sold out some games within minutes and needed less than a couple hours to be down to only scattered singles at LP Field. The quick sellers this season are expected to be the Oct. 11 Sunday night game against AFC South rival Indianapolis and Peyton Manning, Christmas night against San Diego and the home opener Sept. 20 against Houston.
The team encourages fans to use the Internet and telephones since tickets traditionally go quickly.
But that doesn't stop a handful from camping outside the stadium's ticket office each year, and the first tent was pitched Monday night. Nine tents stood alongside the stadium gates in a line down from the ticket office Friday morning for the chance to buy up to four tickets to two games.
Cody Murphy, who turns 18 on Monday, and 19-year-old Adam Coomes of Morgantown, Ky., arrived Thursday night and set up the ninth tent in line. Camping out to buy Titans' tickets is something they had wanted to do for years but weren't old enough until now. They hope to buy tickets for the Colts or Chargers, not that they plan to be too picky.
Ray Allen of Mt. Juliet was beaten out by a trio of young men for the first spot in line he held a year ago. Allen sat with some other campers in the shade of trees near the ticket office in front of the stadium. This is the ninth year he has taken a few days off from work to camp out for tickets, and he prefers the personal touch to the Internet.
"We sit out here, talk, drink sodas. Sometimes we barbecue, talk about life and have a good time. Just being out here and having a nice time," said Allen, who wants tickets for the Colts game and the home opener against Houston. "To me, that's like a full circle. We used to be the Houston Oilers, we're going to have the old Houston Oilers throwback jerseys on. They may not, but that's one of my main reasons to want to have that Houston game."