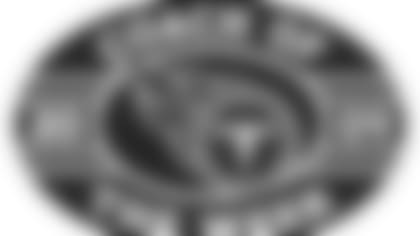 NASHVILLE, Tenn. -The Tennessee Titans announced today that Ron Aydelott, head football coach of Riverdale High School in Murfreesboro, Tenn. has been named as theTitans High School Football Coach of the Week for Week Five**. His Riverdale Warriors used a late field-goal to upset Knoxville Farragut, the No.1 team in the state of Tennessee 20-17.
Riverdale (5-1) combined a punishing ground attack that included 49 rushes for 248 yards between seven rushers and solid clock management to combat the Farragut (4-1) air assault. It was the second time in as many weeks that Riverdale knocked off a top-ranked team, defeating the then No.3 Oakland Patriots last week.
"Coach Aydelott has done an outstanding job with our football program and our win this past week over Farragut is a great example. He has the kids believing they can do anything they set their minds to," said Riverdale Asst. Principal Judy Sides. "He exemplifies to our young men how they should conduct themselves and why community service is important. He is an excellent role model."
Through the Titans Foundation, team owner K.S. "Bud" Adams, Jr. will make a $1,000 contribution to the Riverdale High School football program in Coach Aydelott's honor.
"High school football enjoys a great tradition in Tennessee," said Adams. "That tradition is based not only on the outstanding quality of play but on the devotion of their coaches who continue to develop high school football players into young men of strong character. I'm very pleased to underwrite this program that recognizes the efforts of so many talented high school coaches across the state!"
Coach Aydelott will be the team's guest at the Titans vs. St. Louis Rams contest on December 13th when the team honors all 2009 Coach of the Week winners and announces the winner of the 2009 Coach of the Year! Coach Aydelott is now eligible for the Tennessee Titans Coach of the Year award and Adams will make an additional $2,000 grant to the Titans Coach of the Year winner on that date.
Also receiving strong consideration in this week's poll was Camden High School's Kevin Ward who has led his team to a 6-0 start with their most recent victory over Huntingdon 28-13; Richland High School's (Lynnville, TN) Rickey Taylor who's team got their first win of 2009 by defeating Community (Unionville) 29-7; Kent Green of David Crockett High School who defeated South Greene 42-20 and is inspiring his community through the team's gutsy attitude; Vic Grider of South Pittsburg who took his 1A team on the road and upset 4A Chattanooga Central.
Now in its 12th season, Mr. Adams has awarded more than $124,000 from the Titans Foundation to football programs across the state in honor of the Coach of the Week winners.
"High school football coaches can play a role in the lives of their players that will have lasting results," said NFL director of football operations Gene Washington. "A competitive spirit, good sportsmanship and character development are some of the issues confronted on a daily basis by football coaches. We are thankful for the many coaches around the country who assume such a demanding role."
The criterion for selection includes the coach's impact on his team, school and community. A statewide media panel votes each week to determine the weekly winner. All high school football coaches in Tennessee, regardless of their school's size, league, or division, are eligible to be selected each week. The program is designed to recognize high school coaches who transform, through their hard work and dedication, student-athletes into the best possible football players and citizens in their community.