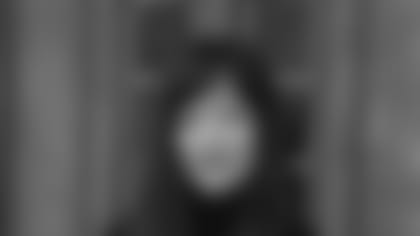 Renata Soto is the recipient of the Titans Hispanic Heritage Leadership Award.
NASHVILLE, Tenn. -- The Tennessee Titans have selected Renata Soto as the recipient of the NFL Hispanic Heritage Leadership Award, a recognition made possible through the support of Bud Light. 
The NFL and the Hispanic Heritage Foundation (HHF) have partnered to launch the NFL Hispanic Heritage Leadership Awards Presented by Bud Light during the 2011 celebration of Hispanic Heritage Month.  The awards recognize the contributions of Hispanic leaders in each NFL market.
The Titans will honor Soto on September 25 at their Hispanic Heritage game when they face the Denver Broncos.  In addition to honoring Soto, the Titans Hispanic Heritage game will include themed messaging during the game including banners, PA announcements and graphics on the jumbotron. 
Soto, co-founder and Executive Director of Conexión Américas, has always worked and volunteered for social and economic justice causes. After finishing college, she started her nonprofit career as a Community Relations Coordinator for the Latin American Association, the largest Hispanic nonprofit social service organization in Atlanta. Once in Nashville, Renata worked for United Way of Metropolitan Nashville for more than five years where she managed a grant-making portfolio of almost $1.5 million, including that United Way's first grants to programs serving immigrants and refugees. In her last role at United Way, Renata was director of an initiative to support and expand a network of family resource centers in low-income neighborhoods in Nashville.  She was also one of the lead organizers of the first-ever research project aiming to understand the experience of Latinos in Nashville conducted in 2000 (Encuentro Latino/Latino Encounter).  Renata was recently appointed to serve on the Board of Directors of the National Council of La Raza --the largest national Latino civil rights and advocacy organization in the United States. 
With support from Bud Light, each award recipient will select an organization of their choice that serves the local Hispanic community to receive a $2,000 donation. 
"Bud Light is recognizing 32 great leaders in each of the 32 NFL cities with this award," said Margarita Flores, vice president of community affairs for Anheuser-Busch. "We applaud all the recipients for their work in making a difference in and improving their local communities."
Soto has chosen Conexión Américas to receive this donation.  Conexión Américas was founded in 2002 to address some of the most pressing challenges and opportunities created by recent demographic changes in our region as an increasing number of Latino families come to Tennessee in search for a better quality of life.
"During Hispanic Heritage Month, Conexión Américas celebrates the presence and contributions of Latinos here in Tennessee," said Soto.  "Every year, more than 2,500 low-income Latinos and their families turn to our nonprofit organization for help to learn English, to buy a home -- or to keep that treasured asset in these tough economic times --, to start or grow a small business, or to see their children succeed in school and be the first in the family to graduate from high school. Every day, we are inspired by the determination and hard work demonstrated by these families in their pursuit of their own American Dream. That spirit of determination is what we celebrate during Hispanic Heritage Month. And as we celebrate our Hispanic roots and heritage, we also recognize the experiences and traditions from our new community that we have adopted as ours, including our love for the Titans and football Sunday."
One of the 32 recipients, Giants honoree Lillian Rodríguez López of the Hispanic Federation, was selected by the NFL and HHF to be recognized at the HHF's national Hispanic Heritage Awards in Washington, D.C. on September 15.  The Hispanic Heritage Awards honor notable Latinos who have distinguished themselves in various fields and made an impact on America and globally. The Awards are considered the highest honor by Hispanics for Hispanics in America.  In 2011, the Hispanic Heritage Awards mark their 25th Anniversary, which is also the anniversary of Hispanic Heritage Month in America. 
Bud Light and Anheuser-Busch have been a longtime friend and partner of the Latino community, enriching people's lives by supporting organizations that make a positive difference. In the past two decades alone, grants and contributions in support of the Latino community have totaled more than $64 million.
The NFL will celebrate Hispanic Heritage Month during Week 3 of the 2011 season. A national spotlight will be shined on the NFL's celebration during Sunday Night Football and Monday Night Football. The Pittsburgh Steelers face the Indianapolis Colts on Sunday, September 25 and the Washington Redskins take on the Dallas Cowboys on Monday, September 26. 
About the Hispanic Heritage Foundation
Since 1987, the Hispanic Heritage Foundation (HHF) has inspired, identified, prepared and positioned Latino leaders.  There call to action is to "help a Latino help a hundred more." Please visit www.HispanicHeritage.org for more information.