NASHVILLE – Mike Vrabel has played in front of 80,000 spectators, oftentimes many more than that.
As an NFL head coach with the Titans, he's also stood on the sideline under the watchful eyes of many.
But standing on a tee box with a driver in his hands or on a green holding a putter presents a different feeling for Vrabel, who is scheduled to play in the American Century Championship celebrity golf tournament this weekend in Lake Tahoe.
He expects to have some nerves at an event known for its rowdy crowds.
"It's like anything else that we're not a professional at, that somebody's coming in there, and you're going to spray some in the gallery and yell fore a couple of times and watch them dive for cover," Vrabel said with a slight smile. "There's some nerve‑racking things."
It will be Vrabel's third appearance in the celebrity-filled event.
Vrabel shot scores of 92-86-82 when he played in the tournament for the first time in 2019. He turned in rounds of 84-91-88 in 2020.
Heading into the tournament, Vrabel has been listed with odds anywhere from 200-1 to 500-1.
"I'd say (my odds are) more than that," Vrabel said. "I think we all go out there for one reason, and that's the American Century Classic, is to be around the families. That's the thing I noticed was to be around family and also other great athletes and people that really let their guard down, relax, have a good time, enjoy some unbelievable conditions and unbelievable golf course.
"That's really why I'm going out there. And I'm going to make a couple of birdies and a ton of double bogeys and that's just how it's going to be. I'm going to have good times along the way, I know that."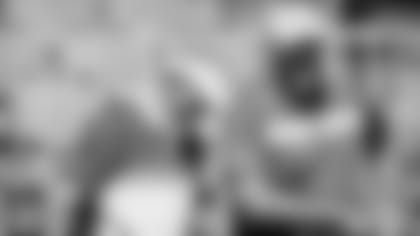 Stephen Curry, Golden State's two-time NBA Most Valuable Player and a three-time NBA champion, is returning to the tournament along with his dad Del and brother Seth.
Justin Timberlake, Annika Sorenstam, Aaron Rodgers, Patrick Mahomes, Tony Romo, Michael Strahan, and Charles Barkley will also be among those in the lineup of 90 sports and entertainment celebrities.
The field will include 17 Hall of Famers, 13 Most Valuable Player awards and 15 Cy Young Awards, and eight Player of the Year Awards.
"Everybody kind of lets their guard down and enjoys that opening night meeting, where everybody's kind of getting together and introducing the people that they don't know and saying hello," Vrabel said.
"It is fun, it's a great chance to go meet other families and players around our league that I haven't had a chance to coach but have admired from afar."
Vrabel, who lives near Richland Country Club in Nashville, gets a chance to play golf occasionally.
He noted some golfers on the Titans who play the sport well.
"Obviously, our punter is an excellent Pro Bowl punter, but those guys have a lot of time on their hands and they're usually good golfers," Vrabel said. "Brett Kern is a very good golfer.
"And there's a sprinkling of guys that do play, and I think it's a great way to get out to do something other than be at practice or be at work but also be with teammates and laugh and try not to take yourself too seriously."
In the back of his mind, Vrabel said he's always known he can't be too good at golf.
Because it might lead to questions.
"I walked into Ohio State and Urban Meyer was the head coach and he kept me on that second year, and he said Lou Holtz told (him) I don't want any coaches with good handicaps; that means they're not focusing on recruiting and coaching," Vrabel said. "I always take that to heart.
"I think there's some guys that are great athletes, that are going to play and have some good rounds. But for the most part it's our time for golf the next couple of weeks before we go to training camp."
The 54-hole competition will air on NBCSN Friday and NBC Saturday and Sunday.