NASHVILLE, Tenn. —The Titans undoubtedly broke the hearts of a bunch of Lions fans on Sunday.
But they perhaps made a fan for life in one young Lions fan, who crossed paths with several Titans as they headed to the playing field. Later, the fan received a football from tight end Delanie Walker.
Amy Boddy, who is from St. Clair, Michigan, posted a video of her young son, Eli, interacting with the Titans before the game. Titans linebacker Wesley Woodyard, decked out in full uniform, including his helmet, picked the boy up and carried him a few steps. The video has spread on social media, and it was shown on NFL Network this morning.
CBS cameras caught Walker giving the football to the boy after he scored in the fourth quarter of Tennessee's 16-15 win over the Lions.
"That was pretty cool to me,'' Woodyard said on Thursday. "I have a son, and it just touched my heart, seeing the kid there. That's the thing about this game of football, it allows us to bring each other together. It doesn't matter about the skin color, race, or anything, money. We are all the same, we all enjoy Sundays, and to me that was special, seeing the kid in the tunnel."
Along with the video of her son, decked out in a Lions jersey of quarterback Matthew Stafford, Boddy posted this comment on her Facebook page:
"Eli had quite the special day. It's the little things that will leave a lasting memory! Thank you Wesley Woodyard for taking a moment to show my little football fan some extra love! This video will forever make me smile!"
Boddy also posted a thank you message on Walker's Facebook page: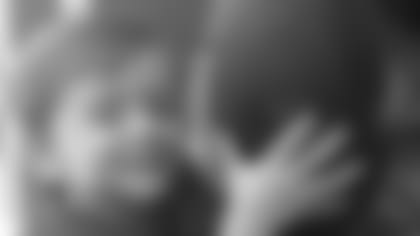 "My little guy wanted to give a big THANK YOU to Delanie Walker, giving him the game ball will be something he will never forget! My husband took my son to the game and the kindness that was shown to my son by multiple Titans players was an amazing representation of what great men and athletes this team has! So again thank you, he might be little but he has such a love for watching sports and can not wait to play them! And although he is a Lions fan, I have a feeling he'll be wearing a Walker jersey to cheer on the Titans whenever they play!"
Woodyard said he wanted to make sure he didn't scare the young boy when he picked him up. After heading down a flight of stairs, six Titans slapped hands with the boy on the way to the field before Woodyard picked him up and carried him several steps.
In the video, Woodyard can be heard saying: "What's up big man? You ready to have fun today?"
"I think it was just meant for him to have a good day,'' Woodyard said with a smile. "I think the Titan gods wanted him to become a Titans fan and not a Lions fan. With the interaction I had with him in the tunnel and him getting a game ball from Delanie, that is special, and something the kid is going to remember for the rest of his life.
"And I really do think that is what is so special about the game of football. It allows us to bridge that gap in culture and allow people to enjoy the game and enjoy each other.
"He was a good little kid,'' Woodyard continued. "As soon as I picked him up he started talking to me, so that was pretty cool."