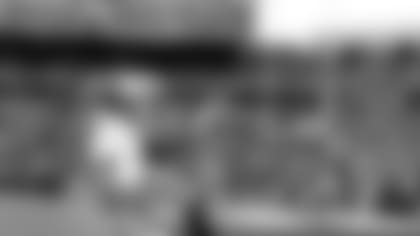 TITANS IMPROVE WIN TOTAL: The Titans have won consecutive games for the first time this season since earning three straight victories in Weeks 2-4.  Their win over the Bills improved their record to 7-5, already one win more than they had in all of 2010 (6-10).
TITANS VERSUS THE BILLS: The Titans' 23-17 win Sunday gave them a four-game winning streak against the Bills and improved their all-time record against the Bills to 27-16.
JOHNSON RUSHES FOR 153 YARDS: Against the Bills, Chris Johnson rushed 23 times for 153 yards and a pair of touchdowns.  Following up on his 190-yard performance against the Buccaneers on Nov. 27, Johnson rushed for 150 yards in back-to-back weeks for the second time in his career.  He previously accomplished the feat against the Houston Texans (151) and Arizona Cardinals (154) during the 2009 season.  Johnson's two-week total of 343 rushing yards is the third-highest of his four-year career (363 from Nov. 1-8, 2009; 356 from Oct. 18-Nov. 1, 2009).
JOHNSON SCORES TWICE, PASSES McNAIR ON TD LIST: Chris Johnson scored on a 48-yard run in the first quarter.  The play was Johnson's 10th-longest career run.  Also, with his 37th career rushing touchdown, he passed Steve McNair (36) for third place on the team's all-time list, behind only Earl Campbell (73) and Eddie George (64).  Johnson added his 38th career rushing touchdown on a four-yard run in the second quarter.  With two rushing touchdowns in the game, he tied his career high (11 previous games) and marked his first game with two touchdowns since Oct. 10, 2010 at Dallas.
RUSHING FOR 100 YARDS & TWO TOUCHDOWNS: With 153 yards and two touchdowns, Chris Johnson has now rushed for at least 100 yards and two touchdowns 11 times in his first four seasons, tied for the fourth-most in NFL history with Earl Campbell and Clinton Portis. Johnson trails Larry Johnson (14), Jim Brown (13) and Eric Dickerson (12).
JOHNSON TIED FOR FOURTH ALL-TIME IN TD RUNS OF 45-PLUS YARDS: Chris Johnson's 48-yard touchdown run against the Bills was his ninth career touchdown run of at least 45 yards. In only three-plus seasons, he is tied for the fourth-most in NFL history with Pro Football Hall of Famer Ollie Matson and Paul Lowe. Johnson trails only Pro Football Hall of Famers Barry Sanders (18), Jim Brown (13) and O.J. Simpson (10).
ANOTHER 100-YARD PERFORMANCE: Chris Johnson hit the 100-yard rushing mark on only his eighth carry, a 17-yard run in the second quarter.  He now has 28 career 100-yard rushing games, including three in the last four games.
BIG DAY FOR SPECIAL TEAMS: On a windy day, the Titans used key plays on special teams to help win the game.  In addition to three field goals by Rob Bironas, he was nearly perfect on kickoffs, booting five touchbacks on six attempts.  In the return game, Marc Mariani totaled 72 yards on three punt returns (24.0 avg.) while the Bills were limited to 10 yards on two punt returns.  Titans punter Brett Kern set season highs with a net average of 45.8 yards per punt (47.8 gross average) and four total punts inside the 20.
TITANS COMMIT FEW PENALTIES: The Titans tied a season low with only three penalties enforced against them, and their 20 total penalty yards also were a season low.
BIRONAS HITS TWO MORE FROM 40-PLUS: Rob Bironas gave the Titans a 3-0 lead in the first quarter with a 48-yard field goal and provided the team's final score with a 44-yarder in the fourth quarter.  It was the sixth consecutive week Bironas made at least one field goal from 40-plus yards, the longest-such streak of his career.  Since the 1970 AFL-NFL merger, Bironas leads all NFL kickers (minimum 100 field goals) in career percentage from 40 yards or longer. He added a 27-yard field goal in the third quarter.
WASHINGTON EXTENDS STREAK: Wide receiver Nate Washington caught four passes for 40 yards, extending his streak of consecutive games with at least one reception to 58 (44 games with the Titans). He returned from a third-quarter ankle injury to make a key 12-yard reception on third-and-eight in the fourth quarter.
McCARTHY INVOLVED IN TWO MORE TURNOVERS: For the third consecutive week, rookie middle linebacker Colin McCarthy forced an opponent's turnover.  Against the Bills, he came up with two fumble recoveries.  On a fourth-down play in the first quarter, he knocked the ball out of quarterback Ryan Fitzpatrick's hands and then dove on the ball.  Then, in the third quarter, he recovered a fumble by tight end Scott Chandler.  McCarthy previously forced a fumble at Atlanta (Nov. 20) and notched an interception against Tampa Bay (Nov. 27).
MARKS CAUSES TURNOVER: In the third quarter, defensive tackle Sen'Derrick Marks and linebacker Colin McCarthy combined for a takeaway.  Marks knocked the ball out of the hands of tight end Scott Chandler for his second career forced fumble (first of 2011).
CAREER LONG FOR HALL: Fullback Ahmard Hall set up a Titans touchdown with a career-long run of 12 yards to the Buffalo four-yard line in the second quarter.  Hall also converted a fourth-and-one with a two-yard run in the third quarter.
KLUG TAKES SACK LEAD: Rookie defensive tackle Karl Klug took the team lead in sacks in the third quarter, dropping Ryan Fitzpatrick for a six-yard loss and his fourth sack of the season.
TITANS INACTIVES: The Titans' seven inactive players against the Bills included quarterback Rusty Smith, cornerback Tommie Campbell, linebacker Barrett Ruud, center Kevin Matthews, tackle Byron Stingily, defensive tackle Zach Clayton and wide receiver Donnie Avery.  Ruud (groin) and Campbell (shoulder) were out due to injuries.