**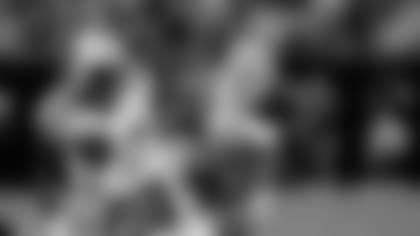 Rookie cornerback Alterraun Verner contributed to Tennessee's defensive starters keeping the Panthers scoreless.
NASHVILLE, Tenn. -** Vince Young was sacked four times in two quarters, All Pro Chris Johnson found himself stymied and left tackle Michael Roos banged his right knee in an ugly preseason loss.
At least the Tennessee Titans can console themselves with how well the defense played.
A unit so woeful in 2009 giving up an average of 25.1 points per game was the only bright spot in the Titans' 15-7 loss at Carolina on Saturday night. Top draft pick Derrick Morgan finally made his NFL debut, and the Titans kept a Carolina squad looking for its first touchdown this preseason out of the end zone despite the Panthers' first team playing three quarters.
"Defensively, we kept things basic and played hard and played well,'' coach Jeff Fisher said Sunday. "We tackled well, we rushed well, we covered well, so I thought we had a pretty good day defensively against an offense that was trying to score points.''
The Titans (1-2) were playing their second game in six days, not counting a joint practice with Arizona midweek. They also played without starting tackle Tony Brown, who remains on the physically unable to perform list, or cornerback Cortland Finnegan, who has missed the first three preseason games because of a strained groin.
Tennessee limited Carolina to 241 yards through three quarters and 51 yards rushing. DeAngelo Williams had a meager 13 yards on nine carries. Carolina had to settle for two field goals, the last in the opening seconds of the fourth quarter with the Titans already having subbed into their third-team defensive players.
Morgan was the highlight, playing 15 snaps after having missed all but the final day of training camp because of a strained calf. The 16th pick out of Georgia Tech strung together four straight plays in which he barely missed his first sack, enough in his debut to excite defensive line coach Jim Washburn.
"Needless to say, he was quite impressive with his first four considering the fact that this was the first time he had full pads on since last January against Iowa,'' Fisher said. "I thought his first outing was pretty impressive, if you take into consideration he is rushing against a starting NFL tackle as well.''
Morgan got out on the field during the Titans' opening defensive series, and Fisher said they saw the strength, power and good hands that convinced the team to draft him.
"He had two hits on the quarterback and had an assist and a tackle for loss in the first four plays and was equally as effective in the other 11,'' Fisher said.
The Titans also have yet to decide who starts opposite Finnegan. Jason McCourty and rookie Alterraun Verner are in a tight battle, and Fisher isn't giving any hints.
"Nothing says I can't play them both in the regular season,'' the coach said.
Fisher expects Brown back this Thursday night when the Titans host the defending Super Bowl champion New Orleans Saints (2-1) to wrap up the preseason. It's another short week with little time to work on an offense that looked very inept in Carolina.
Tennessee managed only 50 yards in the first half on 25 plays. Johnson ran eight times for only 10 yards. Young was 6 of 9 for 48 yards. But the Titans got only four first downs, just as many times as the Panthers sacked Young, as they went through their first preseason game without scoring at least one touchdown.
Young, sacked all of nine times in his 12 appearances in 2009, already has been sacked five times this preseason. The Panthers took him down four times Saturday night, keeping offensive line coach Mike Munchak busy on the sideline reacting to fronts they hadn't practiced against.
Fisher insisted he wasn't concerned about his offense, especially not after seeing all the Panthers did defensively on tape.
"We kept things basic and simple, and we just wanted to let players play. We didn't scheme or come into the game with much of a game plan,'' he said.
NOTES: Fisher said Roos will not need any examinations on his knee. He has started 80 straight games in the regular season, third among all tackles. ... Rookie Damian Williams dislocated his right shoulder when he was hit and fumbled on a punt return. But he returned and played wide receiver in the second half.