**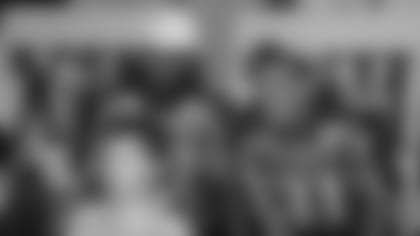 Michael Griffin (left) and Cortland Finnegan (right) pose for a photo with a Titans fan during Titans Caravan XIII Tuesday night in Paduca, Ky.
MARTIN, Tenn. --** Defensive tackle William Hayes kicked off Tuesday's Caravan as the bus traveling Titans players, staff and T-Rac made its way through Kentucky, including stops in Leitchfeild, Owensboro, Madisonville and Murray. Cornerback Cortland Finnegan and safety Michael Griffin joined Hayes at the AT&T store at Kentucky Oaks Mall in Paducah Tuesday evening, interacting and signing autographs for fans for well over an hour.
Holding a pair of Michael Griffin jerseys to get autographed, Paducah resident Kim Griffin (no relation to Michael) was one of the last fans to go through the line. She was ecstatic to see her son's favorite Titan, even though he couldn't personally be there Tuesday night.
"My son is turkey hunting and couldn't make it today, but Connor met him at Erron Kinney's football camp and he was super with the kids, so we are huge fans," she said. "It's super that they do this for the fans. They're all such great guys and very good with the kids."
Michael Griffin was more than happy to bring smiles to the faces of several Titans fans who waited in line to meet him.
"The good thing is we can introduce ourselves to the fans on a personal basis," said Griffin, who made his first trip to Kentucky. "Just giving back to our fans one-on-one, getting to talk to them and signing autographs means a lot tot them and to us. We enjoy them the same way they enjoy us. We're just out here to have fun."
Evan Brown brought his 7-year old son Eli out to meet the trio of Titans.
"We're originally from Paducah, lived in Nashville for 10 years, and then moved back to Paducah. My son was born in Nashville, so he's a big Titans fan," Brown said. "We've been doing this ever since they started coming up here, so it's always exciting to come out.
"We're looking forward to the season. Hopefully they have the injuries behind them. They ended the season on a good note last year and hopefully we can carry that momentum into this season."
Russ Cleaver, from Murray, Ky., said there are several Titans fans in the western Kentucky area.
"I know Murray definitely supports them, all of western Kentucky supports the Titans," said Cleaver, sporting a Cortland Finnegan jersey. "I've met Cortland once before and a few of the other ones. I hope we have a good season. If we get a couple of good draft picks, I think we'll be okay."
Finnegan, a regular contributor to the greater Nashville community, enjoyed interacting with fans and making children smile. At one point, he and Griffin even challenged one young Titans fan to do the chicken dance. That brought laughter to everyone waiting in line.
"It's a chance to give back, hang out and interact with the fans," Finnegan said. "People get to see you without the helmet. It's really a chance to give back and have fun with it all."
For Titans fan Tony Criswell, meeting the players was well worth the wait. She was at the AT&T store with her sons Nathan (14) and T.J. (3).
"I started watching football when I was about 13 and that's when Warren Moon caught my attention," she said. "It's awesome to meet the players here. I keep up with the Titans on their team web site. I wanted to meet Vince last week, but with the kids I couldn't make it to that one.
"This year I'm going to make a point – even if I have to use my income tax return – to go to one game because I've never been to one before. I don't care what tickets I get, I just want to watch them play. I've had people promise me every year they were going to take me, but this year I'm going to depend on myself to get me there instead of somebody else."