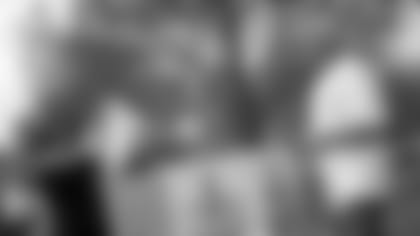 A total of 21,774 pounds of food was donated at the recent Titans-Second Harvest Food Bank drive at LP Field.
NASHVILLE, Tenn. --Titans fans continue to show their overwhelming generosity through the various charity drives hosted at LP Field.  Over the past two weeks, Titans fans have demonstrated their generosity by donating 21,774 pounds of food.  First, the Ultimate Tailgate Party at Tin Roof 1 and Tin Roof 2 brought in 1,981 pounds and then the Titans Stadium Drive brought in 19,783 pounds with a total of21,774 **pounds raised.

"The Lord's blessed me," said donor and Titans fan Richard Lampkin of Nashville,

"And if I can give a little bit to give back so that someone else can have a better Thanksgiving or a better life, then the better off we'll all be."

Second Harvest Food Bank feeds over one million people each year and the Titans food drive will help tremendously, especially in these difficult economic times.  That number keeps increasing as more and more people are relying on donations from food banks to feed their families.

"We have so many blessings, so if we can give a little bit to help someone that is not quite as fortunate, we certainly will and I hope that if we are ever in the same situation somebody would do the same for us," said donors Johnny and Linda Lew of Brentwood.

According to Tasha Kennard, communications and marketing director for Second Harvest, 22,000 pounds of food can be turned into roughly 20,000 meals for hungry men, women and children in middle Tennessee.

In addition to the Food Drive, Campbell's Chunky soup is inviting Titans fans to show their team spirit and help give back to their local communities through its annual "Click for Cans" online competition.  NFL Fans around the country will have the chance to click and vote for their favorite team as part of "Campbell's Chunky" soup's commitment to tackling hunger in NFL communities, helping to secure much needed food donations. This program also benefits the Second Harvest Food Bank of Middle Tennessee.  Fans can vote at www.chunky.com

The Titans fans like Steve & Jennifer Stephens of Old Hickory, TN have continually shown why they are the best in the NFL by participating in donation drives to help fellow Tennesseans who are less fortunate.

"We support all the charity drives at the Titans games and right now with the economy the way it is and so many people out of work, we feel that it is very important to provide (food) and do what we can to help others in the community," said Jennifer Stephens.

The Titans will continue their final two collections with the *Toys for Tots Drive on Dec. 5th vs. Jaguars and Soles4Souls Drive on Dec. 19th vs. Texans. *If you would like more information about Second Harvest Food Bank or would like to make a donation, please visit www.secondharvestmidtn.org.