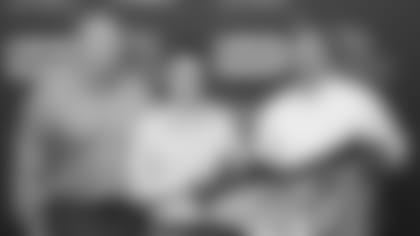 Titans GM Ruston Webster (right) presents Titans Facebook draft contest winner Josh Curd a #4 Titans jersey. Curd will announce the team's fourth-round draft pick Saturday at New York's Radio City Music Hall.
NASHVILLE, Tenn. -- It's hard to say what Josh Curd wants more this Saturday at the 2012 NFL Draft.
The choices are a fourth-round selection that becomes a legend in a Titans uniform or a player with a name that rolls off the tongue with ease.
In truth, both events happening are highly desired by Curd, an enthusiastic Titans fan who will announce Tennessee's fourth-round draft pick and 115th overall selection from the stage of Radio City Music Hall in New York.
"(There's) a lot of pressure just because this is a guy's future and I might be the one that ruins his name and stuff like that," Curd said Tuesday. "So, I'm hoping I don't make a fool of myself or him."
Tennessee general manager Ruston Webster and coach Mike Munchak presented Curd with an authentic Titans No. 4 jersey (representing the fourth round) Tuesday.
Curd submitted a video that was chosen through a  Titans Facebook contest and won the trip that will include airfare for two people, two nights of hotel accommodations, admission to draft festivities on Friday and Saturday and other unique experiences. 
The video spliced together footage of Curd sitting in his car, listening to a Titans game instead of going to his own wedding and footage from the actual wedding that occurred in fall 2010. The video shows Curd in tears as if he is saddened by missing the ongoing game. Curd said Tuesday that the tears in the wedding footage were real because of the emotion that he saw his dad showing during the ceremony.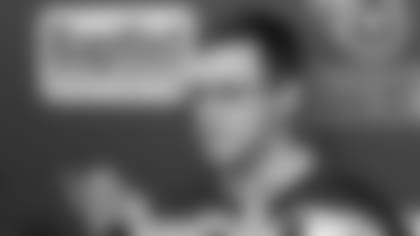 Josh Curd fields questions from reporters Tuesday at Baptist Sports Park.
Curd asked his wife if she wanted to go, but is instead taking a friend who is also an enthusiastic Titans fan. He's been doing research on the possibilities that the Titans may choose in the fourth round, and said recent results — the team's drafting of starters Alterraun Verner in 2010 and Colin McCarthy in 2011 — could bode well for selection that he will announce.
"I'm hoping I can become best friends with this person, and we hang out, play some Madden, or something like that," Curd said, "but when you look at McCarthy, Verner, these are great guys and they're fourth round guys. This person could be a starter day one, a future Hall of Famer. Maybe they can make a movie (about the player someday) and someone will be playing me."