NASHVILLE – Jeffery Simmons got the big, lucrative contract extension.
Then, he went right back to work.
Try telling the big defensive lineman to ease back after another Pro Bowl season, and coming off an ankle injury that forced him to play in pain a good chunk of the 2022 season.
It's not how he's built, and it's not the message he wants to deliver to his Titans teammates.
"When we talk about me being here, this is what I love to do – I love the game of football," Simmons said. "And when you're trying to build a team, a championship team, this is where it starts. Being here is important to me.
"When (guys) see me out there, I think it means something to our team. … It shows what we're about here in Tennessee. No matter who you are, we want people to buy into our standards."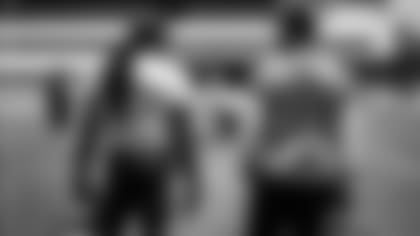 The Titans are scheduled to hit the field for their third day of organized team activities on Thursday at Ascension Saint Thomas Sports Park. Simmons, who signed his extension in early April, was on the field at the start of OTAs earlier in the week after spending a good part of the offseason rehabbing the ankle injury.
Simmons said the ankle is feeling a lot better, but it's a work in progress.
He knows he'll be ready to go when training camp begins in late July.
"I am feeling good so far," Simmons said. "It's been three months rehabbing, and just to be back out there with the guys, being in meetings with guys, it feels good.
"My thing is getting my feet back on the ground. It's been a while since I've been healthy, and it's been a while since I felt like myself. Getting healthy is important, and I am not there yet. I am working my way back at it now, and it feels good to be back out there with my teammates."
A two-time captain and two-time Pro Bowler, Simmons has been one of the NFL's most dominant linemen in recent years.
A first-round pick in the 2019 NFL Draft, Simmons was named second team All-Pro in 2022 after finishing the year with 53 tackles, 7.5 sacks, 43 quarterback pressures and nine tackles for a loss.
In four NFL seasons, Simmons has tallied 196 tackles, 21 sacks, 135 quarterback pressures and 26 tackles for a loss.
Since joining the Titans, he ranks second on the team in sacks, trailing only outside linebacker Harold Landry III (26.5). His career totals also include 19 passes defensed, two forced fumbles and three fumble recoveries.
Simmons said he's not looking to prove anything moving forward. He just wants to keep getting better.
"My goal this year is not to try and prove who I am," Simmons said. "My goal is: How can I be better than I was last year? Especially health-wise. I wasn't 100 percent (last year). I want to go into this season down in my weight, and I want to be able to be consistent with that. I want to be consistent with my technique and my fundamentals, and consistent with my leadership – that's what I have to prove to this team.
"I am not trying to prove, 'I am better than this guy in this league.' … This organization knows who I am as a player, and that's why we came to a (contract) agreement. At this point in my career, it's just, 'How can I be more consistent with my play?"