NASHVILLE, TN, Sept. 16, 2008— The Titans players continued the tradition of Titans Tuesdays in which they take their one day off a week to visit both a hospital and a local school. The defensive ends lifted the spirits of patients at Saint Thomas Hospital while cornerback Chris Carr encouraged students to stay active, both physically and mentally.

Chris Carr takes questions from students at Goodpasture Christian School while stressing the importance of leading healthy lifestyles.

Carr, cornerback and kick returner for the Titans, visited Goodpasture Christian Middle School to promote exercising, a healthy diet and hard work whether it is in sports or any area of interest.  Carr and the rest of the Titans work to promote the NFL's
WHAT MOVES U/Play 60
program in conjunction with the American Heart Association.  He was greeted by a loud roar of anxious students followed by the exchanging of high-fives on his way to the front of the audience. After speaking to the large audience ,a lucky group of 25 students were able to ask their very own questions, receive a Titans school folder as well as receive an autograph. 
At the end of the visit, the students realized that even though Carr is a professional football player, they can already begin to develop the same skills he possesses to create their own successes. The entire student body also received a 2008 Titans team poster while presented the school with a autographed commemorative Titans 10-year anniversary football.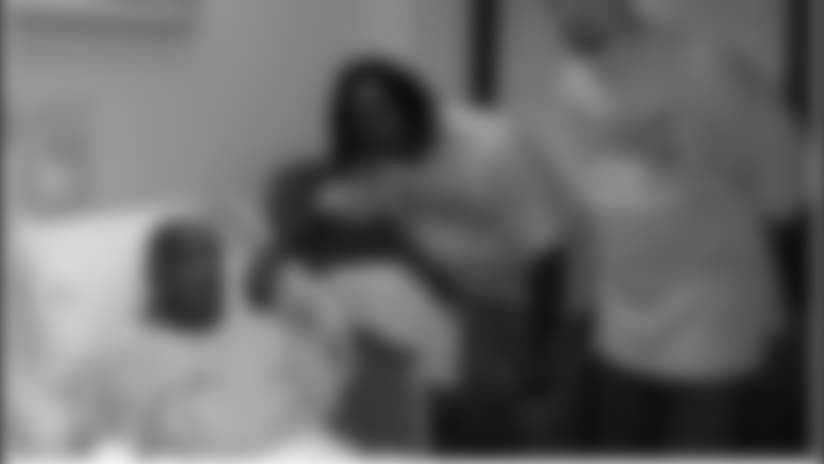 Defensive ends Jacob Ford (L) and Kyle Vanden Bosch spend time with this Saint Thomas patient.

Also taking part in Titans Tuesday were members of the defensive line, who visited with patients at Saint Thomas Hospital.  Dave Ball, Jacob Ford, Jevon Kearse, and Kyle Vanden Bosch brightened the day of patients, families, and staff in the hospital's cardiac unit and the Dan Rudy Cancer Center. 
"The hospital visits are one of my favorite things to do during the year because it's a great feeling to see a patient's face light up when we walk into the room," said Vanden Bosch.
As the players offered encouragement, pictures, and autographs, the patients talked of their excitement about the team's strong start to the season and their anticipation for the some of the big games coming in the next weeks.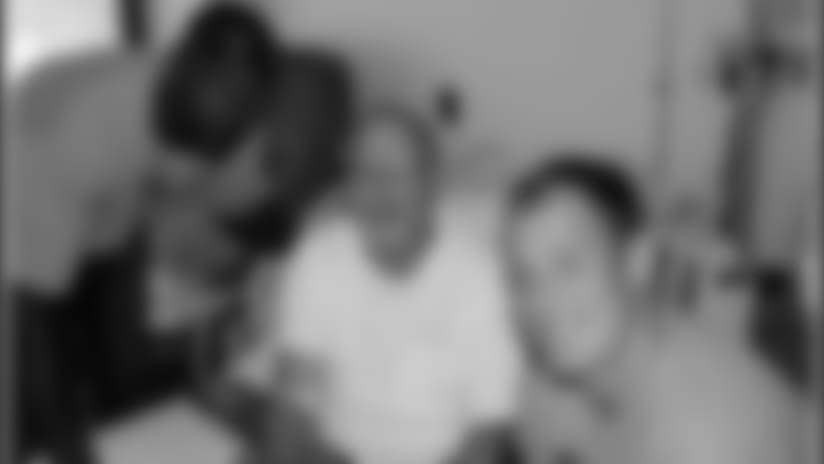 Titans Jevon Kearse (L) and Dave Ball spent their only day off a week at Saint Thomas Hospital helping brighten the day of their patients.

"Having the Titans here really lifts the spirits of our patients. Their visits are a wonderful community benefit and make the difference in the lives of our patients," said Les Donahue, President and CEO, Saint Thomas Hospital.