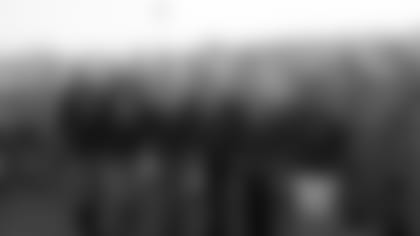 Titans cheerleaders pose with U.S. soldiers during the final days of their trip to Kuwait.
NASHVILLE, Tenn. -- Mission Accomplished! Titans Cheerleaders Brintley, Jalanda, Jessi, Stormi, Tanzye, and Titans Cheerleader Alumni and 2007 Pro Bowl Representative, Jennifer, have made it home safely after a weeklong goodwill trip visiting military bases in Kuwait.
Sponsored by the Morale, Wellness, and Recreation (MWR) department of the military and accompanied by Pro Sports MVP, the six ladies visited Camp Arifjan, Camp Virginia, Camp Buehring, Camp Morrell, Ali Al Salem Air Base (The Rock), and Camp Patriot. On each stop, our very own Titans Cheerleaders treated the troops to a one-hour variety show performance, which involved singing, dancing and interactive skits.
"Being able to bring a smile to the troops and let them know that Americans still support them was the highlight for me," said Titans Cheerleader Stormi. "If Stacie (Director of Cheerleaders) said she needed people to go to Iraq next week, I would be the first one to volunteer. I would never pass up an opportunity like this again."
Stormi is also the wife of an active duty officer stationed at Fort Campbell, who will be deployed this coming summer. Additionally, she works for the USO on base, serving as one of the Titans most military-involved cheerleaders.
Each day in Kuwait was accompanied with a new adventure, a new exciting task, and meeting new wonderful people who are serving our country. Among the numerous incredible activities in which the cheerleaders participated were visiting a K-9 unit and assisting a few Airmen in building a temporary hanger.  They also flew in a Blackhawk helicopter with the 1-108th AV Brigade, and ate dinner each night alongside U.S. troops. Additionally, the ladies visited the wounded in the military hospitals and were able to meet our own Tennessee National Guard Unit in Camp Arifjan.
"I knew that this experience would be enlightening, however, I was not prepared for the emotion that came with you standing face to face with the men and women that sacrifice their time with their families to protect our country," cheerleader Tanzye said. "As a teacher, I have a special place in my heart for the soldiers that left their children to serve. I will forever be in their debt and they will forever be in my prayers."
The goodwill trip was an effort to show support, appreciation and love to our men and women serving in Kuwait by offering a small piece of home to our fellow Americans on the other side of the world.
Titans Alumni Cheerleader, Jennifer said, "I didn't want to come home.  It was an extraordinary, life-changing experience, one that I will remember forever.  Our military is, without a doubt, filled with our nation's finest individuals."
"It is amazing to visit our troops when they are serving our country," said Stormi. "I think we each got something different out of the trip. It brought comfort to me knowing when my husband deploys to Afghanistan this summer, hopefully someone will be able to bring a piece of home to him while he's there."
Military recreation goes by many names across the Services: Army Morale, Welfare, and Recreation (MWR), Marine Corps Community Services (MCCS), Navy MWR, US Air Force Services, and Coast Guard Morale, Well-Being, and Recreation. Regardless of the name, all branches of Service provide service members and their families with a variety of recreational programs on and off the installation to include: fitness and sports, libraries, skill development programs, travel and lodging, and recreational programs designed for single service members.
Pro Sports Marketing Ventures & Promotions is a full-service marketing firm specializing in events and promotions which feature sports and entertainment personalities. It also provides marketing services for professional sports stars and retired athletes.  Sports MVP develops corporate, non-profit and military marketing programs that are customized based on the goals and desired results of the client.