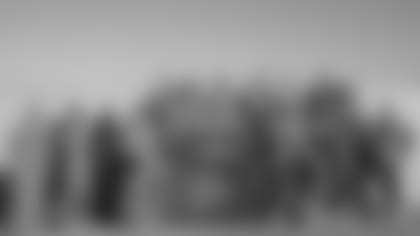 Titans cheerleaders pose with soldiers this week during their week-long good-will visit to Kuwait.
NASHVILLE, Tenn. -- Arriving in Kuwait this past Saturday after a marathon 14-hour flight, Titans Cheerleaders Brintley, Jalanda, Jessi, Stormi, Tanzye, and Titans Cheerleader alumni and 2007 Pro Bowl Representative, Jennifer, are more than halfway complete with their week-long goodwill tour of Kuwait Army Bases.
The goodwill tour is sponsored by the Morale, Wellness, and Recreation (MWR) department of the military. The tour includes greeting and dining with troops, learning day-to-day duties of certain departments and performing a variety show created specifically for this trip.
Having performed at Camp Virginia, Camp Buehring, and LSA, Brian Lee, tour director with Pro Sports MVP, said everything has gone very well so far.
"The girls have had great turnouts and the troops love the shows," he said. "The shows with the interactive skits, Jessi's singing and the great dance routines are a big hit!"
In addition to performing, the ladies are enjoying their time greeting soldiers and a K-9 unit, along with visiting wounded veterans. They also helped a few Airmen build a temporary hanger!
The Cheerleaders are currently beginning a show at Ali Al Salem Air Base (The Rock) today and undoubtedly, these troops are sure to enjoy it as well.
Military recreation goes by many names across the Services: Army Morale, Welfare, and Recreation (MWR), Marine Corps Community Services (MCCS), Navy MWR, US Air Force Services, and Coast Guard Morale, Well-Being, and Recreation. Regardless of the name, all branches of Service provide service members and their families with a variety of recreational programs on and off the installation to include: fitness and sports, libraries, skill development programs, travel and lodging, and recreational programs designed for single service members.
Pro Sports Marketing Ventures & Promotions is a full-service marketing firm specializing in events and promotions which feature sports and entertainment personalities. It also provides marketing services for professional sports stars and retired athletes.  Sports MVP develops corporate, non-profit and military marketing programs that are customized based on the goals and desired results of the client.