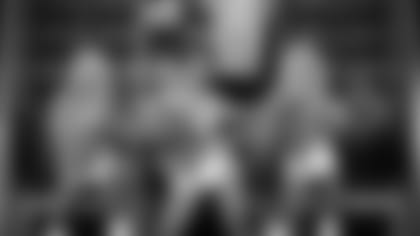 ](http://nashville.metromix.com/events/essayphotogallery/spotlight-titans-cheerleaders/2147729/content)
Not only do they cheer at games, but Titans Cheerleaders serve as excellent representatives in the greater Nashville community, in addition to carrying out a wide variety of careers.
NASHVILLE, Tenn. --** It's one thing to cheer for your Tennessee Titans from the comfort of your Barcalounger with one hand in a bowl of chips and the other hand wrapped around a cold beer.
It's another thing to devote an entire year to hours of practice most days, learning dozens of routines, making public appearances and, for every home game, arriving four hours beforehand while being the last ones to leave the stadium. All while looking polished and faultless, working full-time, being a parent and keeping up with a strict regimen to maintain that picture-perfect figure, hair, nails and award-winning smile.
The Tennessee Titans cheerleaders are definitely pretty faces, but one look inside the organization reveals there's so much more to these 26 girls than meets the eye.
"We have cheerleaders right now who practice law and medicine, we have a neuroscience major,  and there are girls in public relations, marketing and education," said Stacie Kinder, director of cheerleading for the Titans. "They are beautiful, but they aren't bimbos. Do we have bimbos try out? Yes. Do they make the team? No."
Upwards of 300 girls audition each year. Any woman at least 18 years old with a high school diploma can try out. And getting in the door is easy.
Getting to the next step? Not so much.
On the first day of auditions, the group is narrowed to 48. Then Kinder spends nearly a month with them getting to know them. She knows they can dance; that's why they made the final 48. Now she needs to figure out whether they can fit the mold of a Titans cheerleader.
That mold has been carefully sculpted by Kinder since she took her position seven seasons ago. She knows exactly what she wants in a cheerleader. Yes, it's the five-star figure, the sparkling smile and the endless energy, but it's also drive.
"It's looks and human characteristics, and I won't take one without the other," Kinder said. "I'd call the look a diva on the outside and girl-next-door on the inside. Their physical appearance would turn your head, but we have a very distinct culture on the team of women who are driven, career-oriented and have high moral standings and personal accountability."
Once they make the team, the real work begins. During their first summer on the team, it's training camp five days a week, dance four days a week and "Fitness Fridays," where they are coached by an Olympic decathlete. Once the season starts, they practice two to three days a week.
Kinder said the biggest misconception about the squad is how hard they work.
"It's an enormous time commitment," Kinder said. "They don't roll out of bed looking like that every morning. They are in the gym five to six days a week. They have their hair done every three weeks. They choose to significantly watch what they eat. Most people don't realize that to put together an 80-second routine on the field might take eight hours of practice."
One cheerleader on this year's team also cheered for the 2004-05 season. Since then, she graduated from Belmont University, married, had a baby and made the team again only
9 months after having her baby.
The cheerleaders have to maintain a goal weight that is set for each member of the squad by Kinder. They cannot fraternize with the football team, and there's no time for late nights out. And dessert? Forget it.
"You are expected to maintain your weight," she said. "If you break the player rule, you are fired on the spot. If the weight isn't maintained, you are suspended."
So if the team has to be full of ladies who are disciplined, professional, successful and talented, why so much emphasis on their looks? A million reasons.
Kinder said more than a million people a month visit the Titans cheerleader page.
"All they know is how you look. It's the nature of the business," she said. "It's the same as with football. Mostly all you see is how they play. You don't really get to know who the players are as people. Our world is very similar."
Well, there's that and there's the annual Tennessee Titans swimsuit calendar.
This year's calendar features all 26 cheerleaders and was shot on location at Sandestin Golf and Beach Resort in Florida. It will be officially unveiled at the calendar release party next week at Cabana in Hillsboro Village. The cheerleaders will model their swimsuits from the calendar as well as sign autographs and take photos. Everyone's invited.
Now that's something to cheer about.
WHAT: Tennessee Titans Cheerleaders Calendar Release Party
WHERE: Cabana in Hillsboro Village
WHEN: Tue., Aug. 31. Doors open at 5:30 p.m.
TIX: $25, includes calendar