**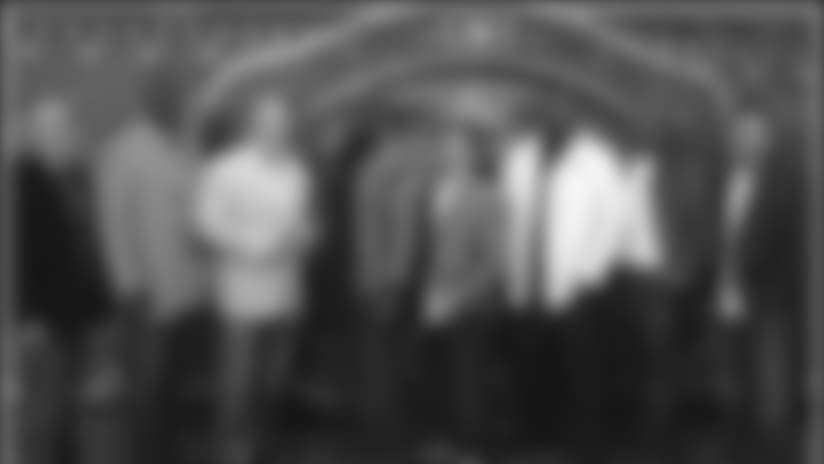 From L to R: Rob Bironas, Kevin Carter (Bucs), Chris Hovan (Bucs), Jevon Kearse, Cortland Finnegan, Albert Haynesworth, Keith Bulluck and Donnie Jones (Rams) on the purple carpet at the CMT Awards.

NASHVILLE, TN, April 22, 2008 — **Tennessee Titans players have taken Nashville's entertainment scene by storm over the past few weeks, starting with an appearance at Brooks & Dunn's Rock the Barn charity concert to benefit Harding Academy held April 11 in Ronnie Dunn's backyard.
Ken Amato, Rob Bironas, Casey Cramer, Cortland Finnegan, Craig Hentrich, Daniel Loper and Michael Roos enjoyed the evening that included a silent and live auction, a VIP reception, great food and concert by Brooks & Dunn. This is an annual event that benefits Harding Academy in Nashville.
Titans players also joined country music artists and other celebrities to walk the "purple" carpet for the CMT Music Awards held at Belmont's Curb Event Center on April 14. Titans players Rob Bironas, Keith Bulluck, Cortland Finnegan, Albert Haynesworth and Jevon Kearse joined other NFL players Donnie Jones (Rams), Chris Hovan (Bucs) and former Titan Kevin Carter (Bucs) for the live show broadcast. NFL Hall of Famers Terry Bradshaw and Dick Butkus were also in attendance visiting with NFL players behind the scenes.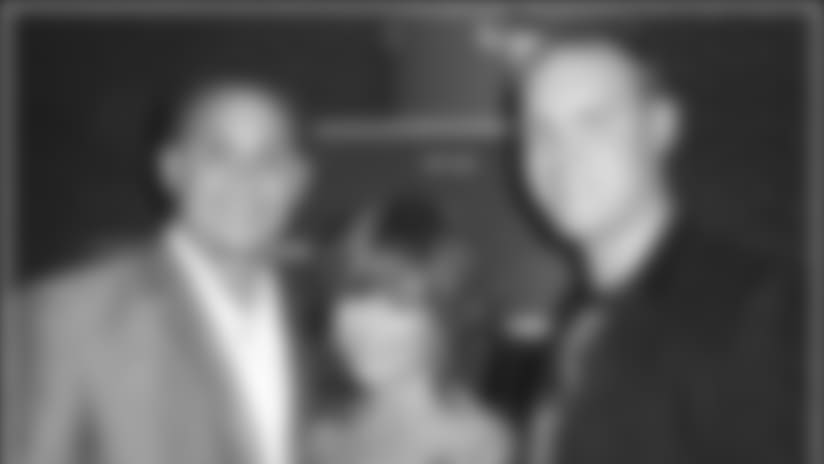 Cortland Finnegan, Paula Abdul and Rob Bironas.

The show was hosted by Billy Ray Cyrus and Miley Cyrus and kicked off with an opening skit featuring a wide variety of luminaries desperately seeking tickets to the show. Senators Barack Obama, Hillary Clinton and John McCain each called a wide variety of friends hoping to score tickets, while Ryan Seacrest, Gretchen Wilson, Donald Trump, Trace Adkins and Larry the Cable Guy also went to great lengths to get to the show.
In a night filled with surprises, Trace Adkins, Kellie Pickler and Taylor Swift emerged as the evening's biggest winners of awards show. Rascal Flatts won Group Video of the Year for their song "Take Me There;" and Sugarland won Duo Video of the Year for their song "Stay." Keith Urban, Nicole Kidman, Tim McGraw, Faith Hill, Snoop Dog, Carrie Underwood, LeAnn Rimes and Paula Abdul were among the celebrities that the mingled backstage and posed for photos.
On April 15, Titans players teamed up to wait tables during the annual Celebrity Waiter's Dinner at The Palm to benefit The Make-A-Wish Foundation of Middle Tennessee hosted by former Titan Kevin Carter and Jay DeMarcus of Rascal Flatts.

Rob Bironas (right) greets and poses with festival organizers at the opening of The Deal in Green Hills.

Current and former Titans pitching in were Ken Amato, Rob Bironas, Dwayne Blakeley, Keith Bulluck, Casey Cramer, Cortland Finnegan, Vincent Fuller, Nick Harper, Albert Haynesworth, Craig Hentrich, Chris Hope, Brandon Jones, Jevon Kearse, Eric King, Daniel Loper, Calvin Lowry, Justin McCareins, Jason Murphy, Donnie Nickey, Neil O'Donnell, Michael Roos, Chris Sanders, David Thornton, Kyle Vanden Bosch. Other NFL players in attendance were Rocky Boiman (Eagles), Drew Brees (Saints), Chris Hovan (Bucs), Donnie Jones (Rams), Tony Richardson (Jets), Ryan Klesko (MLB – San Francisco Giants) along with country music artists John Rich (Big & Rich), LeAnn Rimes, Leeanne Womack, Phil Vasser, Phil Stacey (American Idol) Danielle Peck and Olympic skater Scott Hamilton and actor / writer Billy Zabka (Karate Kid).
The evening consisted of celebrities gathering tips for waiting tables among other fun things, a few highlights were New Orleans QB Drew Brees auctioning off the opportunity to play golf with him in New Orleans to the highest bidder; Jay DeMarcus, Kevin Carter, Chris Hovan along with Olympic Skater Scott Hamilton and Billy Zapka, who played Johnny in the original Karate Kid, re-enacting a fight scene in the movie for a $3,000 donation; A generous donor paid $20,000 for a Rascal Flatts concert /meet-greet and trip to Tampa; Jevon Kearse worked the room, carrying his own tip jar, treating fans to delightful banter, posing for photos and telling jokes and finally; Kyle Vanden Bosch and Jay DeMarcus attempted to sing Summer Lovin' from the hit movie, Grease, until John Rich made a donation for them to stop. The evening's festivities raised an estimated $200,000 for charity.

From L to R: Donnie Jones (Rams) Cortland Finnegan, Joe Don Rooney (Rascal Flatts), Chris Hovan (Bucs), Albert Haynesworth, Jevon Kearse, Gary LeVox (Rascal Flatts), Keith Bulluck, Jay DeMarcus (Rascal Flatts), Kevin Carter (Bucs) and Rob Bironas – standing in front of Rascal Flatts bus backstage at the CMT Awards.

On April 17th Rob Bironas helped kick-off the 2008 Nashville Film Festival (April 17-24) as he walked the red carpet for the movie premiere of The Deal starring William H. Macy and Meg Ryan. Bironas joined William H. Macy, director Steven Schachter, Mayor Karl Dean, music group Emerson Drive and others for the festivities held at Regal Cinemas in Green Hills.
"I love meeting new people and Nashville has so much to offer when it comes to various entertainment," said Bironas. "I've had a great week with the CMT Music Awards, Celebrity Dinner and now the film festival. Music City is such a great place to live because we have so much going on here and I wanted to come out and support the folks who support us each Sunday. I enjoyed meeting people and building relationships in the community."
"Nashville is one of the oldest film festivals in the country, so it's an original," said Macy. "I love being here." Yesterday, the William Morris Agency hosted a private reception during the film festival festivities at Arrington Vineyards, owned by Kix Brooks (Brooks & Dunn) and festival goers were joined by Bironas, Cortland Finnegan and Vincent Fuller among other celebrities.   Check out www.nashvillefilmfestival.org for all the details happening this week.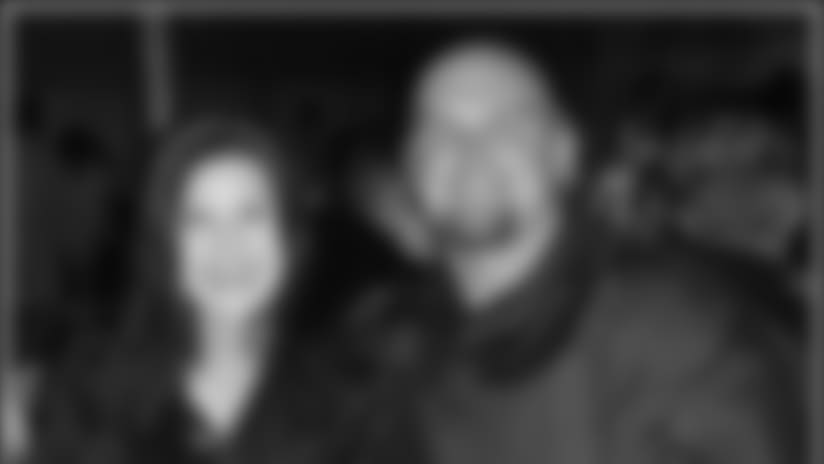 Daniel and Jennifer Loper.