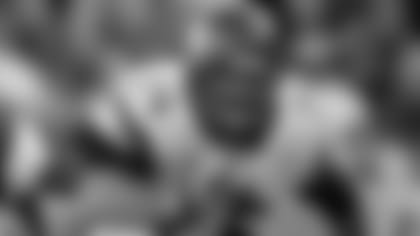 Five-time All-Pro guard Steve Hutchinson immediately upgrades the Titans' offensive line.
NASHVILLE, TENN. – The Tennessee Titans agreed to terms with All-Pro G Steve Hutchinson on a multi-year contract.
"Steve is a really talented player who has had a great deal of success in this league," said Titans general manager Ruston Webster. "I like his leadership and his toughness and he will obviously add to the overall talent of the group upfront."
"I have always liked Steve as a player and respected how he has played," added Titans head coach Mike Munchak. "I have evaluated hundreds of players coming out of college in my time as a coach and he may have been the finest college guard I have watched. I still see him (on tape) playing at a high level, even in his 11th NFL season. He brings experience and success to our line and into the locker room. He is just an all-around good football player and we are excited to have him."
Entering his 12th NFL season, Hutchinson (6-5, 313) has earned seven Pro Bowls (2003-'09), five first-team All-Pro honors (2003, '05, '07-'09) and started 157 regular season games (8 postseason games) during his career. He played six seasons with the Minnesota Vikings, after starting his career with the Seattle Seahawks (2001-2005).
During his time in Minnesota, he blocked for Adrian Peterson, who has averaged 1,350 yards per season during his five-year NFL career and led the league in rushing in 2008 (1,760 yards). In Seattle, he had similar success paving the way for Shaun Alexander. In five years together, Alexander averaged 1,500 yards per season (7,504) and earned NFL MVP honors in 2005, when he rushed for a league-leading 1,880 yards and 27 touchdowns.
Hutchinson was originally a first-round pick (17th overall) by the Seattle Seahawks in the 2001 NFL Draft from the University of Michigan.