Harper Honors Mother's Memory by Asking Fans to Support 5K Run/Walk To Benefit Lung Cancer Research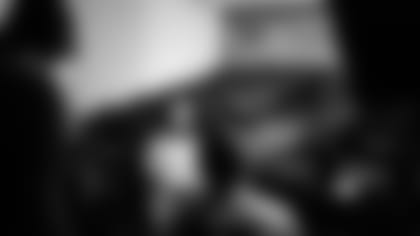 Rookie RB Jamie Harper shoots a PSA for "Breathe Deep Nashville," a 5K Run/Walk for lung cancer research to be held on Saturday, Nov. 5 (7 a.m.) at Centennial Park.
NASHVILLE, Tenn. – Rookie Titans running back Jamie Harper, who lost his mother to lung cancer when he was just 9 years old, has signed on to support "Breathe Deep Nashville."  Harper is asking Titans fans to show their support by participating in the "Breathe Deep Nashville" 5K Run/Walk for lung cancer research to be held on Saturday, Nov. 5, at Centennial Park at 7:00am.
Both Harper and NASCAR legend Sterling Marlin have joined the steering committee for "Breathe Deep Nashville." The steering committee is chaired by lung cancer expert Dr. Pierre Massion of Vanderbilt-Ingram Cancer Center. Dr. Massion also chairs the Scientific Advisory Board of the event's sponsor, LUNGevity Foundation. 
"This cause is close to my heart," said Harper. "I look forward to honoring my mother's memory and supporting the Nashville community by getting involved in Breathe Deep Nashville."
LUNGevity is dedicated to funding research for early detection and targeted therapies for lung cancer.  It has the largest grant awards program of any lung cancer organization in the United States and supports the largest grassroots network.  This event is one of more than 60 events across the country this year hosted by LUNGevity.   This is LUNGevity's first Nashville event.
"Jamie and I both know how it feels to lose a mother to lung cancer," said Andrea Stern Ferris, president of LUNGevity. "We look forward to working with him to raise awareness of the importance of early detection. If found early, the five-year survival rate increases to more than 70 percent."
Registration begins at 7:00am and the event is pet, wheelchair and stroller friendly, welcoming all ages to participate.  Visit www.breathedeepnashville.org for more information or to register for the "Breathe Deep Nashville" 5K Run/Walk. LUNGevity seeks to inspire the nation to commit to ending lung cancer. For more information about LUNGevity, please visit www.lungevity.org.