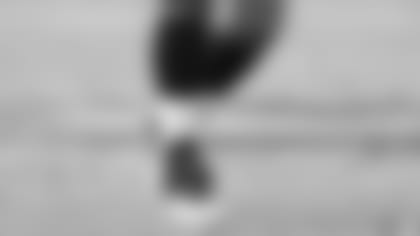 Equipped with deceptive strength and speed, Casey has been busy harassing opposing quarterbacks early in his rookie season.
NASHVILLE, Tenn. -- Tracy Rocker's smile grew and he began to chuckle deeply.
The first-year Titans defensive line coach enjoys coaching rookie defensive tackle Jurrell Casey that much.
Casey, the 6-foot-1, 300-pounder looks lumbering at first glance, but a deeper evaluation reveals strength and speed, Rocker said.
"He's funny, unique," Rocker said. "You look at him — everyone looks at his body and says, 'Where are the muscles at?' I say, 'It's just Jurrell Casey. We just call him Honeybun.' He's very unique but I enjoy coaching him."
Casey said "my body's not up to par with the way" some people expect an NFL player to look like. His desire, however, adds to the deception. Other players may have more impressive physiques than the 21-year-old, but he is showing his muscular strength and work ethic to become a dominant defensive tackle as his career progresses.
"They think I'm not as strong as I am, but I just keep working every day in the weight room and keep going out there and working on my technique," Casey said. "When you do your technique, no matter how strong the other opponent is, you're always going to look better if you're doing your technique right."
The Titans drafted Casey in the third round this April to add size to the interior defensive line, but Casey wants to be more than a gap-filler on run plays. The native of Long Beach, Calif., who played three seasons at Southern California, wants to consistently pressure opposing quarterbacks with interior pass rush and show that defensive tackles can sack quarterbacks if the opportunity arises.
Casey earned a starting spot during training camp. He recorded 30 tackles, including one for loss and a sack of Steelers quarterback Ben Roethlisberger in his first six NFL games.
"I did pretty good coming out. I've kind of gotten a couple of tackles in every game so far, so I'm doing good in that part," Casey said. "I wish I could have gotten a couple more sacks. Other than that, I'm just improving daily, trying to work on my pass rush. To get more sacks as a defensive tackle is kind of difficult. Not too many d-tackles get sacks, so I'm trying to work and change that mind-frame that d-tackles could lead teams in sacks."
Casey led the Trojans with 4.5 sacks and 11 tackles for loss during his junior season.
Rocker said Casey brings big-play potential to the position as he's adjusting to life in the National Football League.
"The guy's very active on Sundays," Rocker said. "He makes a lot of good plays. He knows how to pressure the pocket and rush the passer, and he's faster than what you think. You look at him and think, 'That guy can't run.' Then, 'Whoa. Who's that guy moving?' So he's very athletic — just don't pay attention to his body."
Casey said he tries to rely on a strong heart to keep the rest of his muscles going.
"You've got to have the heart and courage to go up in there and be a defensive tackle," Casey said. "Every play, you're hitting somebody. Other positions you can get off without hitting somebody on a certain play. But every play as a d-lineman, you're hitting somebody so you have to be prepared for that. You have to just have that heart to give your body up for your linebackers to make certain plays. You have that discipline and that heart every play."
Even on the plays where he might not be rewarded with a tackle.
"To be a successful defense, you've got to do that sometime. You've got to sacrifice your game for the linebackers to make a play. That's why it's so big when d-linemen make plays. When they get those sacks, you see them celebrating a lot. When you make a play, you've got to let it be known."
Casey, who is adjusting to the speed of the NFL, said the pace of life in Nashville is slower and more relaxed than the Los Angeles area. There are fewer distractions, allowing him to focus more on football.
"The biggest surprise so far is how fast everything is," Casey said. "It's way faster than college. Everything moves quicker and everything is a little more physical. If you mess up on the technique, you're done."
Rocker said Casey has fundamentals and an understanding of what it takes to play inside on the defensive line. The coach said the rookie is also learning just how tough a double team, often against more than 600 pounds, can be in the NFL.
"I always stress to him, 'You can never hold up 300 pounds with one arm and 300 pounds with another. You better put both hands on one guy,' " Rocker said. "After that for us, it's usually using leverage, dropping your hips and pushing. Those are the things we stress.
Rocker said Casey grasps the importance of practice in continuing to improve his game.
"The thing about Jurrell, he comes to practice and he comes to work. He's focused, he's in tune," Rocker said. "I love his approach to the game."