**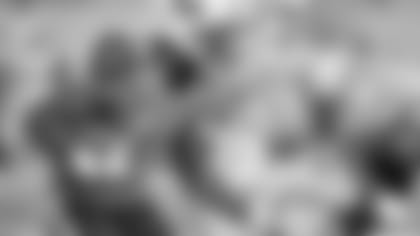 Rookie receiver Kenny Britt has shown early on that he can successfuly compete at the NFL level.
NASHVILLE, Tenn. --** Tennessee rookie wide receiver Kenny Britt showed in his first NFL game that he's a quick learner with a short memory.
Britt watched Pittsburgh's Troy Polamalu steal away the first pass thrown at him, then revealed why the Titans made him their first No. 1 pick at that position since 1998.
Britt rebounded with possibly the strongest performance by a rookie receiver in his debut under coach Jeff Fisher.
"For being his first time out there, I didn't get the feeling like it was too big for him," quarterback Kerry Collins said of Britt. "I felt like he was ready to play. Probably the most encouraging thing when something went wrong, we would coach him on it ... it would sink in, it would register. For young guys, that doesn't always happen."
On his first pass the rookie had pushed off Polamalu, then watched as the All Pro safety reached up and snagged the ball with his left hand for an interception at the Pittsburgh 5. Adding to the pain? Britt didn't touch Polamalu down on the turf, and the Steelers safety got up and ran it back 16 yards for decent field position.
But Britt, the youngest Titan who doesn't turn 21 until Saturday, listened as teammates Justin Gage and Nate Washington offered reminders to forget the play and a quick lesson on his options the next time the defender winds up between himself and the ball.
"You've got to put that play behind you and learn to knock the ball down or get an offensive penalty. But when you come back out on the field, you can't worry about that. You've got to worry about the next play," Britt said.
He credited those lessons with helping him stay in the moment and not let himself slack on the little details as rookies are often prone to ignore.
Britt finished with four catches for a team-high 85 yards, a night that included a 57-yarder on the sideline in which he weaved upfield for extra yards. That catch set up Tennessee's lone touchdown of the game in the 13-10 overtime loss.
Not bad for a rookie who played college ball at Rutgers who found himself starting his first NFL game on the home turf of the defending Super Bowl champs.
"He came through when his number was called," Gage said. "He made some plays for us. He was out there on the field not looking like a rookie, looking like a veteran receiver who knows what he's doing."
Britt's performance wound up tied for first among rookies in catches with Louis Murphy of Oakland and second only to Murphy in yards by 2.
That put Britt, the sixth and final receiver drafted in the first round in April, ahead of receivers like Hakeem Nicks taken just ahead of him, Percy Harvin, Jeremy Maclin, Darrius Heyward-Bey or Michael Crabtree who has yet to sign a contract and join his team in San Francisco.
Britt started in place of Washington, who is recovering from a left hamstring injury but should return Sunday against Houston (0-1). Washington, who was taught by Hines Ward as a rookie in Pittsburgh, has been sharing his knowledge with Britt. The veteran has been impressed so far with the 6-foot-3, 218-pound rookie.
"I told Kenny as long as his mind is where it needs to be, the physical part of his game is already there. ... He plays like he's been in the league at least four years. He's big, he's strong, he's fast. But we're just trying to get Kenny to focus more on being big, strong, fast and finishing," Washington said.
"We're just trying to get his mind into knowing in this league, you're not going to beat everybody with your strength or your speed. You have to think about everything that you do."
Britt's early performance is good news for a franchise that hadn't drafted a receiver in the first round since Kevin Dyson in 1998 and had struggled to find them through the draft in recent years. It also may be why the Titans haven't signed a veteran after working out receivers like Matt Jones and Jerry Porter on Sept. 3.
Not that the rookie is getting overconfident. He knows he must improve his route running and recognizing defenses quicker. "All I know is I can do better. There's a lot of things I've got to learn," Britt said.
The Titans couldn't be happier to hear that.
NOTES: Tight end Bo Scaife (left knee) missed a second straight practice. But rookie tight end Jared Cook was limited in his first practice since hurting his right ankle Aug. 29. ... LB David Thornton (knee) also did not practice.