NASHVILLE, Tenn. (AP) - Spending last fall stretching and using Pilates to overcome hamstring issues on his own has taught Darius Reynaud to take nothing for granted in the NFL.
Not even a season-ending injury to Marc Mariani opening up a need at returner will change that.
"Never feel comfortable man,'' Reynaud said Sunday after practice. "It's the side of the game that nobody likes during this time. We've got one more game left. I just got to finish off on a good note.''
Reynaud already had made a big impression with his return skills before Mariani suffered a compound fracture in his lower left leg at the end of a punt return Thursday night. His chances improved Sunday when the Titans (2-1) placed Mariani on injured reserve.
"You never want to see a guy of his caliber go out like that,'' Reynaud said. "That's why they say the next guy when it's your turn, you have to take advantage of your opportunity, and I'm trying to take advantage of that.''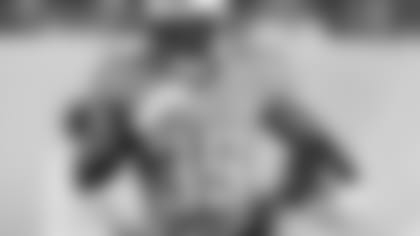 It's a lesson well learned by a man who went undrafted out of West Virginia in 2008 and is with his third NFL team after stints with Minnesota and the New York Giants.
The Vikings signed him after the 2008 draft, and he started on Minnesota's practice squad before being activated Nov. 23, 2008. The Vikings swapped him to the Giants in September 2010 along with Sage Rosenfels for draft picks, and New York waived him Sept. 3, 2011.
Reynaud spent last season working on his troublesome hamstrings and turned to lots of stretching and more Pilates after healing up trying to eliminate that issue. Tennessee signed the man from Luling, La., on Jan. 6.
He is experienced, playing 23 regular season games with two postseason games as a returner. He has an 8.3-yard average on 58 punts for 440 yards, and he averaged 20.5 yards on 33 kickoffs with a long of 49 yards. What the 5-foot-9, 201-pound Reynaud has not done yet in an NFL game is notch a single carry or reception.
That's why coach Mike Munchak wants to see more from Reynaud at running back, though receiver also is an option for someone who left West Virginia ranked third with 19 career touchdown catches.
Javon Ringer and Jamie Harper back up Chris Johnson at running back along with Quinn Johnson and Collin Mooney competing at fullback. Tennessee usually keeps three running backs and a fullback on the 53-man roster.
"Obviously, returner is going to become a priority now because of the injury last night, so he'll get a chance to catch more punts and do things like that, to where maybe he hasn't had as many of those in the past,'' Munchak said. "So now that you're the guy, or have the chance to be the guy, you're going to get more work there. ... He's never been a true running back full time.''
That's why the Titans (No. 21 in the AP Pro 32) are watching closely to see how Reynaud handles protection when on the field at running back along with the other challenges when carrying the ball. Reynaud leads the team with 117 yards rushing on just 16 carries this preseason for a 7.3 yard average, and he also has run for a TD.
Reynaud already had impressed them with his skills returning punts and kicks. He returned a punt 85 yards against Seattle in the preseason opener, and he is averaging 29.2 yards on punt returns. He has a 42-yard return on one of the three kickoffs.
For now, he's busy studying the playbook and focusing on Thursday night's game with the Saints (2-2), though his mother reminded him a couple days ago in a phone call that Reynaud told his family he didn't plan on coming home.
"I've just got to take advantage of the opportunities, and it's looking good for me right now,'' he said.
NOTES: The Titans gave LG Steve Hutchinson and RG Leroy Harris the day off Sunday for rest. ... WR Kenny Britt ran and caught passes on a side field. Munchak said they have to decide by Friday night's final roster cut deadline to whether the receiver is healthy enough to play at the start of the season to activate him off the physically-unable-to-perform list.