NASHVILLE – The Titans will look different on offense in 2021, not only because of changes in personnel, but also at offensive coordinator.
Since Mike Vrabel promoted Todd Downing to replace Arthur Smith, the Titans have said goodbye to four key pieces on offense while welcoming in others to take their places, and to compete.
It remains to be seen what changes or tweaks Downing makes, but three Titans who recently signed deals to return said they're excited about the possibilities.
"I am excited to see where Todd takes this offense," Titans tackle Ty Sambrailo said of Downing, the team's tight ends coach in 2019 and 2020. "I know he has a great understanding of it. I am excited that we promoted from within and that we're going to keep the same family of football going."
After Smith accepted the head coaching job with the Atlanta Falcons, Vrabel tabbed Downing to take his place. Vrabel spoke about the importance of continuity, and in doing so he could point to the past.
The last time Vrabel was faced with filling the OC spot was when Matt LaFleur was hired as head coach of the Green Bay Packers. Vrabel promoted Smith from tight ends coach to offensive coordinator, and the offense took off under Smith's guidance.
Downing, who just finished his 20th season in the NFL, is now faced with the challenge of keeping things rolling a year after the team finished 2nd in the league in offense.
A pair of Downing's former pupils in the tight ends room spoke favorably about their former position coach after signing new deals last week.
"If you're in the building you see that TD shows up to work and he's the first guy there," tight end Geoff Swaim said. "If he has something to present or if he's talking about red-zone offense, he's dialed in, he's detailed, and everyone sees that. He's the guy that, 'Hey TD, what are we doing here?' He's got the dissertation on it because he knows it. Everyone sees that. Everyone shows up to work and they know who the guys are that get after it and he's at the top of that list for sure."
Tight end Anthony Firkser agreed.
"He's a very detail-oriented guy," Firkser said of Downing. "He does a great job teaching us and coaching us, making slight improvements on all plays and throughout the game. I know he has experience from the offensive coordinator job in his prior years. I'm just excited to see how it progresses with the Titans."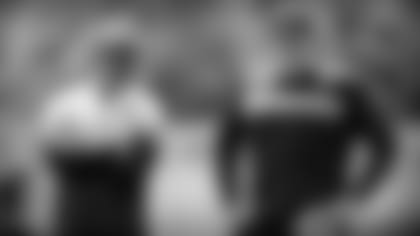 Downing joined the Titans after spending 2018 with the Minnesota Vikings as tight ends coach. In his one season with Downing, Pro Bowl tight end Kyle Rudolph posted the second highest reception (64) and yardage totals (634) of his eight-year career.
With the Titans, Downing has been instrumental in the development of tight ends Jonnu Smith, MyCole Pruitt, Firkser and Swaim.
Downing served as the Raiders offensive coordinator in 2017 after spending two years as quarterbacks coach. During his Raiders tenure, he helped Derek Carr earn three consecutive Pro Bowl berths (2015-17). In 2016, Downing helped the Raiders offense finish sixth in the NFL in total offense (373.3 yards per game) and guided Carr to a career year, finishing with 3,937 yards on 357-of-560 passing (63.8 percent) with 28 touchdowns, six interceptions and a passer rating of 96.7.
Prior to joining the Raiders, Downing coached quarterbacks for the Buffalo Bills in 2014 after previously coaching for the Detroit Lions from 2009 to 2013. In Downing's three seasons as quarterbacks coach in Detroit, Matthew Stafford started all 48 games and passed for at least 4,600 yards and 20 touchdowns each year, including a 5,000-yard, 41-touchdown season in 2011, which led to the Lions' first playoff berth since 1999. Under Downing's tutelage, Stafford went on to become the franchise leader in attempts, completions and passing yards, and he ranked second in touchdowns with 109 by the end of 2013.
At season's end, quarterback Ryan Tannehill expressed confidence in the team's potential to sustain their success from 2020, when the team finished 2nd in the NFL in total offense while averaging 31 points per game.
Swaim said one of the qualities Downing has as a coach is his willingness to adapt.
During an offseason that's already seen some changes on offense – receiver Corey Davis (signed with Jets), tight end Jonnu Smith (signed with Patriots), receiver Adam Humphries (signed with Washington) and right tackle Dennis Kelly (released) won't be back – Downing is expected to add his own wrinkles while leading an offense with Tannehill, running back Derrick Henry, receiver A.J. Brown and a newcomer in former Rams receiver Josh Reynolds in the mix.
More additions are expected in the coming months in free agency, and the NFL Draft.
"I've had a lot of different styles of tight end coaches, and I've played through college and been in the league for a little bit," Swaim said. "The best quality of Todd in my mind is he's not a stubborn dude, he wants to work with you. As a tight ends coach, it was great. We'd have discussions about technique or scheme or whatever it was, whatever in my mind I wanted to talk about he was willing to have those discussions and open to hear what I like to do and how I like to do it. I thought as a position coach that was really, really valuable for me. It helped me feel free to make the most of my game or try new things and try to improve in that area. That's what he did really well as a tight ends coach I thought, and I know his football mind is real sharp.
"I can't speak to him as a coordinator, I haven't been around him when he was a coordinator so I can't speak to him on that, but I know he's got a really good football background and I'm really excited to get to keep working with him."