NASHVILLE – Even before DeShone Kizer landed an opportunity with the Titans last year, he'd envisioned making Nashville home.
A star quarterback at Notre Dame who was a second-round pick in the 2017 NFL Draft, Kizer is friends with country music singer-songwriter Dustin Lynch, a Tullahoma native. The friendship led to Kizer building a bigger network of friends in town, and to him being comfortable in Music City.
"I love Nashville," Kizer said. "This city is amazing. It's growing, and you can feel the energy around it."
Kizer's plan now is to earn a permanent spot with the Titans, and settle down in Tennessee.
But he knows there's plenty of work to be done on the football field.
Signed to the Titans practice squad during Week 12 of the 2020 season, Kizer is competing with quarterback Logan Woodside for the No.2 spot behind starter Ryan Tannehill. Kizer made strides with his work this offseason, and he hopes to build on his improvement when training camp begins later this month. Woodside won't be an easy guy to unseat, however – he's had another impressive offseason himself.
"It's been great being here," Kizer said. "Really, I've just been trying to get better every day. Ryan and Logan, they've been great. … For me, it's just about making sure when it's time for training camp you want to make sure you are prepared enough to go out and truly compete for a chance to be this team's back-up quarterback behind Ryan."
Kizer's time in the NFL has been an interesting one.
A 6-foot-4, 235-pounder, Kizer was originally drafted by the Browns with the 52nd overall pick of the 2017 NFL Draft. In his rookie season, Kizer started 15 games and completed 255 of 476 passes for 2,894 yards with 11 touchdowns and 22 interceptions. He became the third-youngest NFL quarterback to start in Week 1 since 1963.
But he's played sparingly since. After being traded from Cleveland to Green Bay, Kizer played in three games with the Packers in 2018 before being waived in August 2019. He also spent time with the Raiders in 2019 and 2020 before the Titans signed him last year.
In his NFL career, Kizer has thrown for 3,081 yards, 11 touchdowns and 24 interceptions, along with 458 yards on the ground and five rushing touchdowns in 18 games with the Browns and Packers.
Kizer said he "learned a lot" while working behind quarterbacks Aaron Rodgers and Derek Carr.
"And along the way I have been able to find myself and how I want to go about playing the game," Kizer said. "Picking up things from all those spots, it has put me in a position to compete."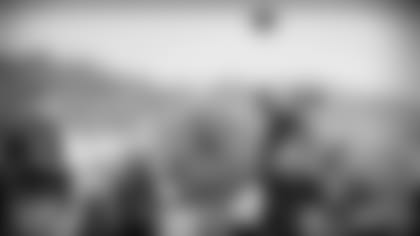 Things have been interesting for Kizer during his short time with the Titans as well.
After joining the Titans late in the 2020 season, he spent most of his time away from the team as the "quarantine quarterback."
Kizer's daily routine last year included waking up and getting a COVID-19 test, and then zooming into meetings. He stayed at home when the Titans practiced, and about the same time the team wrapped up work on the field, he'd get to the facility to have time to throw to a handful of guys afterward while keeping his distance. Then, he'd rush back to get on Zoom calls.
This offseason, Kizer has had a chance to compete in practices on the field, and in meeting rooms.
Titans quarterbacks coach Pat O'Hara acknowledged last year was hard on Kizer.
"But he handled that really well, and he had been eager to get back on the field, and it shows," O'Hara said. "I think the transition has been good for him. It is a healthy competition right now (between Logan and DeShone). Those guys are both working hard, have both been prepared and they're showing leadership."
Titans offensive coordinator Todd Downing said, "it's been fun to work with (Logan and DeShone) and I'm excited to watch that competition."
Kizer, who appeared in 25 games with 23 starts over two seasons at Notre Dame (2015-16) and completed 423 of 696 passes (60.8 percent) for 5,809 yards and 47 touchdowns, said it's been great to get to know his new teammates better while competing.
"Obviously I've been a bit of a journeyman in the first four years of my career, so I've been able to hop on a few new teams in OTAs and gotten to know the guys," he said. "I kind of consider myself a vet going into the season here. So it's been awesome, to start to build that camaraderie with my other teammates in the locker room and spending time with the guys and trying to improve on the field so I can put myself in a position to compete in the preseason and training camp."
Kizer, who in 2017 became just the fourth rookie quarterback in NFL history to register at least 400 rushing yards and at least five rushing scores, joining Vince Young, Cam Newton and Robert Griffin III, is hoping Nashville provides a place to jumpstart his career.
While he has friends in the music business, music is hardly a back-up plan.
"Singing in the shower and thinking I can strum a guitar when I have a couple of beers in me," Kizer said with a smile. "Other than that, I have no music in my bones."