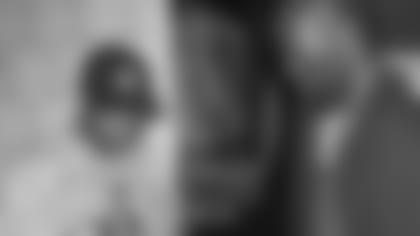 NASHVILLE, Tenn. -- Titans Pro Bowl Safety Chris Hope continued his dedication to serving the community by visiting with guests at the Nashville Rescue Mission on Monday. Hope, who was a finalist for the team's Community Man of the Year Award, makes a point to get out in the community and support the people who so proudly support him and his teammates on Sundays during the NFL season.
Hope was at the Nashville Rescue Mission to support the Soles4Souls and Shoe Carnival shoe distribution. Soles4Souls is a non-profit organization that provides free shoes to those in need, world-wide. Hope was on hand to fit guests of the mission with their new pairs of shoes, while greeting and taking pictures with the happy recipients.
Hope is a National Spokesperson for Soles4Souls, an organization he has been involved with since joining the Titans in 2006. He donates $100 for each tackle he makes during the season as well as hosts several fundraising events and shoe drives to support the charity. To date, Hope has donated over $28,000 to the cause through his on-field success and his annual hibachi "Night with the Secondary" event.
"Since I came to the Titans, this community and the city of Nashville, along with the Titans organization has accepted me as a part of their family and I just try to give back to the community in any way that I can," said Hope. "I have been blessed to be able to be in a position to help others and helping others is one of my passions."
About Soles4Souls
Nashville-based Soles4Souls facilitates the donations of both new and used shoes, which are used to aid the hurting worldwide. Soles4Souls has distributed more than 5 million pairs (currently donating one pair every 13 seconds) to people in over 125 countries, including Honduras, Uganda, Romania, and the United States. The charity has been featured recently in Runner's World and the Green Guide by National Geographic. It has also appeared on CNN, NBC, ABC, FOX, CBS, and hundreds of regional outlets around North America. Soles4Souls is a 501(c)(3) recognized by the IRS; donating parties are eligible for tax advantages. Visit *[
www.giveshoes.org](http://www.giveshoes.org/) for more information.