Greetings from South Florida, home of your 2010 Pro Bowl!
After a connecting flight to Atlanta, I met up with Shannon of the St. Louis Rams and our one and only Titans mascot, T-Rac! It was great to finish the trip to Florida with friends. After landing, we were off to retrieve our baggage where we met Holly of the Indianapolis Colts. All wearing our Pro Bowl sash, we were identified quickly, met by NFL staff and whisked away to the Sheraton Yankee Clipper in Ft. Lauderdale, Fla. 
Once we checked into our hotel we were able to enjoy a few hours of down time, which allowed many of us to talk and get to know each other until dinner later that night.   Dinner involved an official welcome from Dorie Grogan, the Pro Bowl cheerleader and mascot director, who also holds the title of Director of Entertainment with the Miami Dolphins.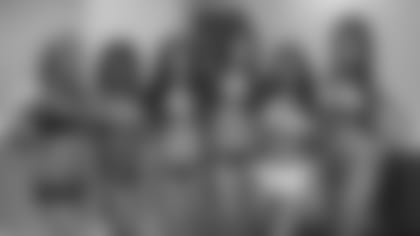 Tonia (second, left) joined NFL Cheerleaders in preparing for a fashion show featuring custom made bathing suits for each team representative.
We began our first order of business after meeting the choreographers, staff and other cheerleaders.  We were told to attend dinner in casual attire and bring a pair of nice heels. To our surprise, the first order of business was preparing for a fashion show with custom made bathing suits representing our NFL teams.  This is definitely a Pro Bowl squad -- everyone went from casual to sexy in less than five minutes!
After everything was tucked and fitted, we slipped on our runway shoes and practiced strutting our stuff, Pro Bowl style. This was considered our first practice for the show.
We were informed that some of the cheerleaders will have to be up bright and early in the lobby by 6:30 a.m. for radio and television appearances and others can sleep in until breakfast at 8 a.m.  Take a guess who has radio and television responsibilities?  Yes, yours truly!  So it's off to bed for a good night's rest to prepare for another day of excitement here in Miami.
Stay tuned all week to learn more about my Pro Bowl adventures!