**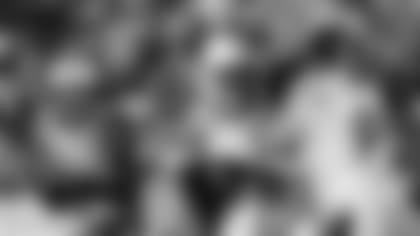 The Titans finally get their rematch with Pittsburgh after missing out on a chance in the playoffs last season.
NASHVILLE, Tenn. -** The Tennessee Titans know last season is long gone and Thursday night's NFL season opener with Pittsburgh is the start of the chase for a new championship.
That doesn't mean they still don't feel like the Steelers won their Super Bowl.
"If we would've had a chance to play them again in the AFC championship and those guys would've beat us, it would've been a little easier to swallow,'' Pro Bowl safety Chris Hope said. "Being we beat the Super Bowl champions and never had a chance to compete and go play for the Super Bowl left a bad taste in our mouth."
Remember, the Titans went an NFL-best 13-3 in 2008 and beat Pittsburgh 31-14 Dec. 21 in what both teams thought might be a preview of the AFC championship game. But Tennessee tripped in the divisional round and lost 13-10 to Baltimore, while Pittsburgh rolled through the playoffs.
That missed matchup helped land this rematch in the NFL's slot for the first game of 2009. The Steelers start their defense against a team still upset over how last season ended.
"We've got to get that bad taste out of our mouth,'' defensive end Jevon Kearse said.
Most Titans sound as if they're following coach Jeff Fisher's cue for this game - the past is gone, now is all that matters.
"Reflecting back in the past does you no good as far as moving forward unless you use the experience wisely,'' Fisher said Sunday.
Tennessee quarterback Kerry Collins agreed.
"It's dead and gone. You take your hat off to them. They did a good job, won the whole thing last year, but that was last year. They're saying the same thing. Last year's last year. You move on and focus on what you want 2009 to be,'' Collins said.
True, but Pittsburgh coach Mike Tomlin admitted during a conference call that he knew his Steelers would run into the Titans again if each team handled business.
"We had a feeling when we left Nashville that in order to do what we wanted to do we'd probably have to come back there,'' Tomlin said.
Pittsburgh did, running through the postseason. Tennessee didn't, losing at home. Titans tight end Alge Crumpler has taken a philosophical approach to the AFC championship they didn't get to host the Steelers.
"They took 31 other teams' Super Bowl if you want to look at it that way,'' Crumpler said. "They're the ones that won it. They're the defending Super Bowl champs. Everybody's going to be gunning for them. We get the first crack.''
Pittsburgh and Tennessee are very similar to the teams that played last December. Each return all but two starters, and defensive tackle Albert Haynesworth, the Titans' biggest loss in free agency, didn't play in that game. Defensive end Kyle Vanden Bosch sees playing the champs means a quick chance to see where the Titans are now.
"It's going to be as good a test as we can get for the opener, not just because they're the Super Bowl champs but have a great defense and a great offense. It's going to be as tough an environment to play in as we'll see all season,'' Vanden Bosch said.
The opener has been hyped through national TV commercials for over a week now, featuring shots of Titans running back LenDale White stomping on a treasured Terrible Towel after Tennessee's win last December. White is among those who wishes they had been able to play the Steelers in the playoffs.
"That would mean we'd be playing for a chance at the Super Bowl. I definitely wish I had a chance to play them. We didn't. Baltimore handled their business. We were at home watching ...,'' White said. "This is our time to go. We can't thrive off anything that happened last year.''
White can't wait for the opener and an intense atmosphere, if only judging from how Steelers' fans challenge him almost daily via his Twitter account. The vocal running back isn't backing down either so Pittsburgh fans should hold tight to their towels.
"If they throw a towel at me, I'm going to kick it and stomp all over it,'' White said.