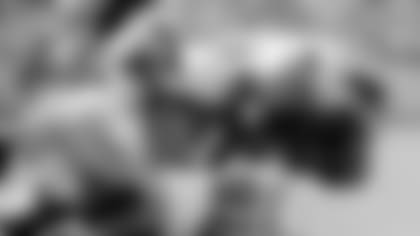 Tennessee's defense held the Ravens to just 229 total yards in a 26-13 win on Sunday.
NASHVILLE, Tenn. — Cortland Finnegan loves to be in the middle of the play.
Titans coaches love what he does when he is.  Whether it's a run play or a pass play, they have confidence in Finnegan to help make the big play.
Finnegan broke up a pass attempt to Anquan Boldin to end Baltimore's first possession with a quick three-and-out, and tipped a pass by Joe Flacco early in the fourth quarter. Titans cornerback Jason McCourty intercepted the deflection and returned it 30 yards to set up one of four field goals by Rob Bironas in Tennessee's 26-13 win against Baltimore Sunday at LP Field.
Tennessee defensive coordinator Jerry Gray's scheme often lines Finnegan, a six-year pro, up in the middle of the field instead of on the outside at cornerback. The move makes Finnegan harder for offenses to avoid.
"I can't thank them enough for it," Finnegan said. "I continue to have some growing pains there but I also want to work there because I enjoy the slot. It was their idea. I wish I could take the credit for that, but as a whole, we played well today."
Tennessee's defense recorded three sacks, two interceptions and forced a pair of fumbles, helping the Titans dictate the flow of the game against a team that's become famous with making big defensive plays.
"I grew up loving (Baltimore linebacker) Ray Lewis, and the Ravens' defense has always been something to reckon with and talk about, but I think guys on this team knew what we wanted to do," Finnegan said. "When we go out and execute the game plan, we're a pretty good defense. Stopping the run is the biggest thing in the NFL. The defensive line played great today. We were able to stop Ray Rice, and he's a big part of them. You saw them having to go to the air, and I believe in our defensive backs. We've just got to go out and make plays."
Alterraun Verner, who intercepted Flacco in the first quarter, said Finnegan's willingness to move around and his abilities help create opportunities for other Titans defenders.
"Cortland's a versatile guy, so they try to put him in the best ways that he can make plays," Verner said. "If that's rushing, going back in coverage, guarding the best guy, that's just the type of guy he is and he was willing to accept that challenge. He had that big tip that (McCourty) got. He's not a selfish guy, he's trying to better the team and he took on that responsibility, and it's been helping us."
DEFENSIVE LINE PRESSURES QB, STUFFS RUN: Tennessee's rotation of defensive linemen frequently pressured Flacco, and limited the Ravens' running game. Rookie defensive tackle Karl Klug, and defensive ends Dave Ball and Derrick Morgan dropped Flacco for losses.
Flacco finished 15-for-32 passing for 197 yards with two interceptions for a passer rating of 51.2. Baltimore rushed for just 45 yards on 17 attempts. Rice had 43 yards on 13 carries, and Ricky Williams had two yards on four attempts.
Klug forced a fumble by Williams that Titans safety Jonathan Babineaux recovered early in the second quarter and forced a fumble by Flacco that the quarterback recovered before halftime.
Ball started in place of William Hayes (shoulder) Sunday, and made the most of the opportunity. Ball defended the rush and short pass plays and sprung free with a spin move for a sack of Flacco to help hold Baltimore to a field goal before halftime.
It was the first sack of the season for Ball, who finished second on Titans in 2010 with seven sacks, despite having his season end abruptly with a concussion.
Jason Jones, who played defensive tackle last season, started opposite Ball at end. It was the first game of the season for Jones, who missed the opener at Jacksonville with a knee injury. When the Ravens faced more passing situations, the Titans moved Jones to tackle and put Ball and Morgan on the ends of the defensive line.
Morgan, a 2010 first-round selection, also appeared in his first game of 2011 after missing last week because of soreness in his knee that was surgically repaired after an ACL injury last season. Morgan said the defense was pleased with the way it played, despite being less heralded than the Ravens' defense in the week before the game. Tennessee lost 16-14 at Jacksonville in Week 1, while Baltimore hosted and defeated Pittsburgh 35-7 after forcing seven Steelers turnovers.
"That's all we heard all week, how good they were and how they man-handled Pittsburgh," Morgan said. "The only people that believed that we could win were the guys here in this (locker) room, and that's all that matters at the end of the day. Everybody believed in each other and we went out there and handled business."
HASSELBECK SPREADS BALL, REACHES MILESTONE: Matt Hasselbeck delivered the most prolific passing performance by a Titans quarterback against the Ravens in the 20 games the franchises have played since Baltimore's creation in 1996.
Hasselbeck threw for 358 yards, completing 30 of 42 passes to nine different Titans. The 13-year NFL veteran and offseason signee connected for short and long gains with Titans receivers, running backs and tight ends and led Tennessee on three straight scoring drives of 80 yards (before halftime), 75 yards and 65 yards (in the third quarter).
Hasselbeck, who didn't take a sack and received ample pass protection from the Titans' offensive line, completed a 33-yard pass to Jared Cook, a 37-yarder to Kenny Britt and a 42-yard pass to Nate Washington, and a 4-yard touchdown pass to Britt.
"I think we kept him pretty clean for the most part," guard Jake Scott said. "If we're able to keep him clean the rest of the year, I'd expect those kinds of days from him the rest of the year."
Hasselbeck also became the 33rd player in NFL history to throw for more than 30,000 yards. Hasselbeck reached the milestone in the first half during a drive that resulted in a touchdown pass from the quarterback to Britt and gave the Titans a 10-7 lead with 40 seconds left in the third quarter.
TITANS SHOWER MUNCHAK: Titans offensive lineman Fernando Velasco and defensive tackle Shaun Smith caught first-year head coach Mike Munchak by surprise as the seconds ticked down toward the coach's first career victory.
Velasco and Smith drenched Munchak with a full container of Gatorade in celebration of the win. They were so quick in their showering that Munchak said he was going to have to review the culprits on film.
"It was very unexpected," Munchak said. "If I get one after a win, I hope I get about 10 or 12 more of those this year. I think these guys were excited too. You know, it's nice that they're excited for me that we got this first win with me as a new head coach and for this organization because they know I've taught quite a bit about our tradition all year long, and (the Ravens) are ones that have been in our way for a lot of years." 
GOING FOR IT: Munchak made a difficult decision to go for it on fourth-and-one early in the third quarter and opted for a fake up the middle and pitch from Hasselbeck to reserve running back Javon Ringer, who scored a 10-yard touchdown on the play.
"I'm just thankful I was able to make the best of it," Ringer said. "It didn't overwhelm me. I just kind of heard the play and was like, 'Let me make the most of my opportunity.' "
Ringer rushed five times for 21 yards and caught two passes for 30 yards in his first game action since Tennessee's first preseason game. 
SAVING A TD: Receiver Lavelle Hawkins had three catches for 22 yards, including a reception on third down that helped seal the victory. His most important catch, however, occurred when he tracked down David Reed on a kickoff return. Reed took the ball deep in the end zone and returned it 77 yards to the Titans' 30-yard-line before Hawkins fought through a block and prevented a touchdown just before halftime.
Tennessee's defense held Baltimore to a field goal and went into the locker room tied at 10. Tennessee didn't trail the rest of the way.