The tackle position in the 2014 NFL Draft class is considered quite strong by many talent evaluators. NFL Media analyst Mike Mayock believes the top three prospects at tackle are better than the top three that were selected first (Eric Fisher, Chiefs), second (Luke Joeckel, Jaguars) and fourth (Lane Johnson, Lions) overall in 2013.
"I thought those three offensive tackles (on Saturday) were spectacular," Mayock said. "I'm talking about (Greg) Robinson, (Jake) Matthews and (Taylor) Lewan. I thought they all had good days."
Jake Matthews, Texas A&M, Sr.
In college:** Matthews started 46 of the 49 games he played for the Aggies. He began his career at right tackle but switched to left tackle for his senior season after Joeckel was drafted. Matthews is a two-time, first-team All-SEC selection (2012-13), was named an AP All-American and was a finalist for the Outland Trophy in 2013. He returned for his senior season in large part because he wanted to play on the same team as his younger brother Mike.
Lineage: Jake Matthews is the son of former Titans/Oilers Hall of Fame offensive lineman Bruce Matthews and brother of Kevin Matthews, who has played all or parts of the past four seasons with the Titans. His grandfather Clay Matthews Sr. played for the 49ers, his uncle, Clay Matthews, Jr., played for the Browns and Falcons, and cousins Clay Matthews III (Packers) and Casey Matthews (Eagles) are in the NFL.
Quotable: "I'd like to think I wasn't grandfathered in (laughs), I hope I earned my way here," Jake Matthews said when asked about his football lineage. "It is special, the family I came from and the relationships I have with my dad and cousins and brothers and all the people who have gone through this process. So that's really special and something (where) I can look to them to ask what it was like, what their experience with it was. So far it's been good. I've enjoyed it."
---
Greg Robinson, Auburn, R-So.
In college:** Robinson started 25 of the 26 games he played at Auburn and was selected a third-team All-American after helping the Tigers lead FBS in rushing yards per game (328.3), win the SEC Championship and appear in the national title game. Robinson started 11 of 12 games at left tackle in 2012 after being redshirted in 2011. Robinson didn't play offensive line until his junior year of high school, after first playing defensive line. 
'Upside': Mayock explained during the combine why he ranked Matthews ahead of Robinson, saying, "I love the kid. The only reason I don't have him number one is because I think Jake Matthews is safer. Greg Robinson has got the most upside of any offensive lineman in the draft, but I think there are other guys that are safer because they're a little further along, as far as technique and number of snaps in college football."
Quotable: Asked about his progression from a college redshirt to a top prospect, Robinson said: "I'm pretty sure anybody at Auburn could vouch for me as far as my work ethic at the University. It's just something I kept to myself and it was just a fire under me and I wanted to succeed. And it was my ultimate goal," and on how he plays? "I wouldn't say angry, but I'm not trying to be nice."
---
Taylor Lewan, Michigan, Sr.
In college:** Lewan started 48 of 50 games, including: 13 at left tackle in 2013 when he was named a second-team All-American and first-team All-Big Ten; 13 at LT in 2012 when he was first-team All-American and All-Big Ten; and 13 in 2011 when he was second-team All-Big Ten. Lewan played offensive line for the first time as a senior in high school after previously playing defensive end.
Tradition: Lewan said he returned for his senior year because "134 years of that kind of tradition is unbelievable. Being part of something like that for one more year – you only have college for so long. And fortunately enough I am still here standing in front of you all, still with the same opportunity as last year. I am thrilled to be here and I can't wait for the future."
Quotable: "As far as my strength as a player, I like to think I'm very consistent and I play through the whistle. That's one of my weaknesses, too, as everybody likes to comment on. But no doubt about it, I like to play through the whistle and do whatever I can to put people in the dirt as much as possible." And on any draft projection, "I just want to be employed at the end of May. I am 22 years old and I am about to be living with my mother. April is going to be a long month."
---
Zack Martin, Notre Dame, Sr.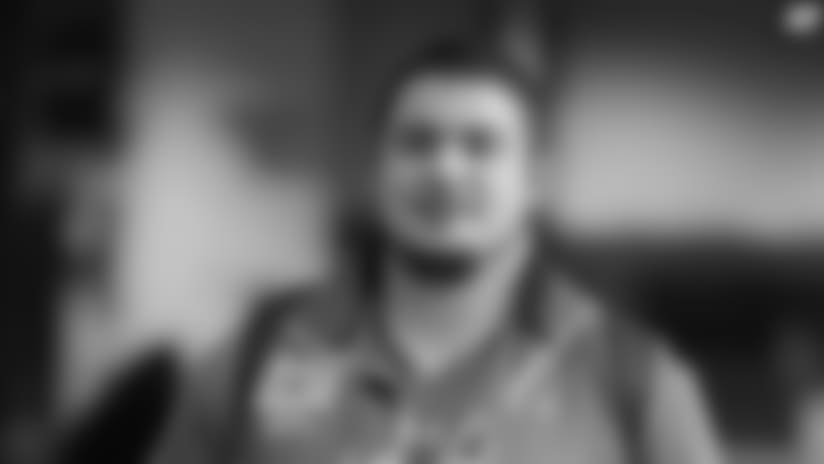 In college: Martin set a school record by starting all 52 games (50 at left tackle, two at right) he played at Notre Dame. He served as the 18th two-time captain in Fighting Irish history and was an FBC All-Independent pick in 2011 and 2012. 
Extra effort: Martin said he focuses on consistency and utilizing technique to counteract tough matchups. "With extra studying, you can do a lot of stuff by studying your opponents and technique work. I take pride in technique and try to make up for a little bit of lack of size, stuff like that."
Quotable: "I think I grew a lot this year. I think coaches noticed," Martin said. "I think I became more of a complete player. I think they saw growth in my technique and just consistency. I thought I had a pretty good year in 2012 but I think, on a consistency standpoint, this past year, 2013, was my best year yet."
---
Cyrus Kouandjio, Alabama, Jr.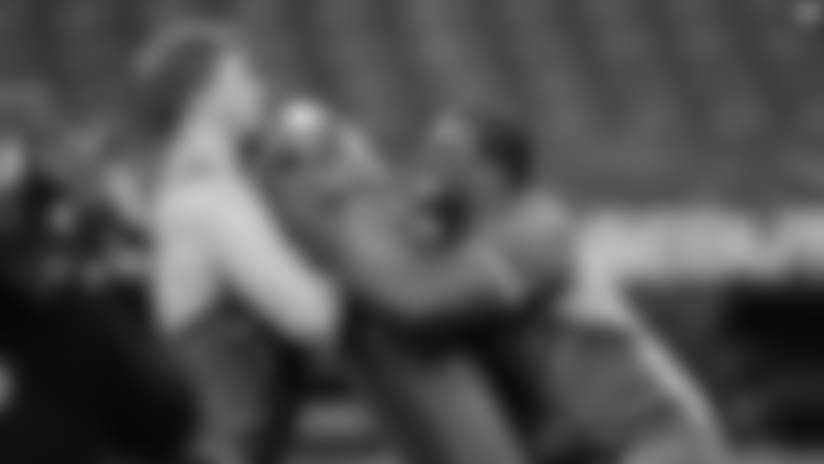 In college: Kouandjio started 26 of the 35 games he played in three seasons at Alabama. He was selected as a first-team AP All-American, first-team All-SEC and a semifinalist for the Outland Trophy in 2013. He recovered from a torn ACL in 2011 to start 14 games at left tackle in 2012 and help the Crimson Tide win their second straight national title, along with Titans guard Chance Warmack. Kouandjio's younger brother Arie will be a senior at Alabama in 2014.
International experience: Koundjio's family moved to the United States from Cameroon when he was 4 and said he's appreciated the opportunities in America.
"When you think America, a lot of guys, especially from back home, look at America as somewhere you go and get an opportunity to make something of yourself because there's no oppression here. There's democracy, there's no funny business going on here, so everybody has a chance to get what they want in life. I feel like me and my brother are taking advantage of this as much as we can. God bless America."
Quotable: Kouandjio said during his combine media session that he made the most of the in-depth medical exam that used an MRI to take a detailed look at his knee by catching up on sleep. "I was laying in an MRI machine for two hours, 30 minutes straight," Kouandjio said. "It was small. I felt like a taco. Our first night, we only get two, three hours of sleep."