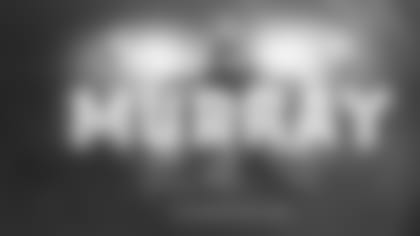 ](http://www.nfl.com/voting/players-air-and-ground/2016/REG/10)

NASHVILLE, Tenn. – Titans RB DeMarco Murray is a candidate for FedEx Ground NFL Player of the Week after rushing for 123 yards on 17 carries (7.2 avg.) and a touchdown in a 47-25 win over the Green Bay Packers.
Click HERE to vote for DeMarco Murray!
Other Murray notes from Sunday's game:
MURRAY ACCOMPLISHES A RARE FEAT FOR A NON-QB:** Running back DeMarco Murray scored a touchdown on a 75-yard run and added his first career touchdown pass, a 10-yarder to tight end Delanie Walker. He became the first Titans non-quarterback since Earl Campbell in 1980 (Sept. 7 at Pittsburgh) to rush for a touchdown and pass for a touchdown in the same game. The only other time it happened in franchise history was 1962, when Billy Cannon accomplished the feat (Sept. 9 at Buffalo). Murray became the first non-quarterback with a touchdown run of 75 or more yards and a touchdown pass in a single game since Pittsburgh's John Henry Johnson on Dec. 11, 1960 (vs. Philadelphia). Murray was the first NFL non-quarterback to complete a touchdown pass in 2016. The last was fellow Titans running back Antonio Andrews at the New York Jets on Dec. 13, 2015.
MURRAY HITS 100 AGAIN:** With 17 carries for 123 yards and a touchdown, DeMarco Murray notched his 26th career 100-yard rushing game (including one playoff game) and his fifth such performance with the Titans. He became the first Titans player to rush for at least 100 yards five times in a season since Chris Johnson in 2012.
MURRAY'S SECOND LONGEST CAREER RUN: On the Titans' first play from scrimmage, DeMarco Murray ran 75 yards for a touchdown. The play was the second-longest run of Murray's career, behind only a 91-yarder as a rookie with the Dallas Cowboys against the St. Louis Rams on Oct. 23, 2011. It was the Titans' longest rushing attempt since Marcus Mariota's 87-yard touchdown run against Jacksonville on Dec. 6, 2015.
MURRAY TIES EARL CAMPBELL'S FRANCHISE RECORD:** With his 75-yard touchdown run in the first quarter, DeMarco Murray tied Earl Campbell's franchise record, set in 1979, of five consecutive games with a rushing touchdown. Murray also became the sixth player in franchise history to score a touchdown of any variety in five consecutive games, joining wide receiver Bill Groman (eight straight games with a touchdown in 1961), running back Hoyle Granger (five in 1967), Campbell (five in 1979), wide receiver Chris Sanders (five in 1995) and wide receiver Kenny Britt (five in 2010).
MURRAY ADDS A BIG CATCH: DeMarco Murray posted two receptions for 33 yards, including a key 35-yard catch on third down that qualified as the second-longest reception of his career.