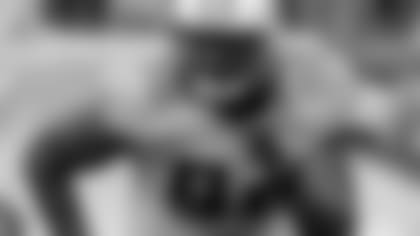 Derrick Morgan is the Titans' representative of the 2011 Ed Block Courage Award.
NASHVILLE, Tenn. – Defensive end Derrick Morgan was named by his teammates as the recipient of the 2011 Ed Block
Courage Award, which is presented to one player from every NFL team who exemplifies a commitment to the principles of
sportsmanship and courage.
Morgan, the Titans' 2010 first-round pick, leads the team with 19 quarterback pressures in 2011 and has notched 44 tackles,
two sacks, three stops for loss and two passes defensed. He is a part of a defensive unit that currently ranks seventh in the
NFL in scoring defense, allowing an average of 19.7 points per contest.
Beyond his play on the field, however, Morgan was recognized by his teammates for his determined effort in returning
from a difficult injury. On Oct. 3, 2010, he tore the left ACL in his knee in the fourth game of the year against Denver and
missed the remainder of the 2010 season. He underwent reconstructive surgery on Oct. 13 and began a grueling 10-month
rehabilitation process.
His resolve paid off when he returned this August healthy and completed preseason camp. Unfortunately, he injured his
left knee in the second preseason game against St. Louis. Morgan missed the last two preseason games and the season
opener, but rehabbed the injury and appeared in the remaining 14 games.
Previous Titans recipients of the award include Steve McNair (1999), Kenny Holmes (2000), Kevin Dyson (2001), Eddie
George (2002), Kevin Carter (2003), Keith Bulluck (2004), Tank Williams (2005), Brandon Jones (2006), David Thornton
(2007), Chris Hope (2008), Kevin Mawae (2009) and Will Witherspoon (2010).
The Ed Block Courage Award is named in honor of Eddie Block, who served 23 years as the head athletic trainer for the
Baltimore Colts, and is part of a fundraising effort to help abused children in various NFL cities. Morgan will join the
winners from the other 31 teams for the awards presentation in Baltimore, Md., on March 11-13.