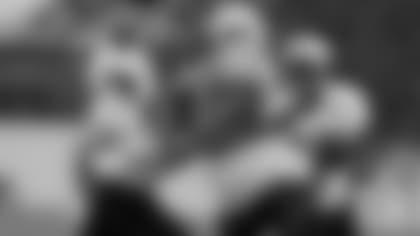 Second-year cornerback Ryan Mouton breaks up a Rusty Smith pass intended for wide receiver Kenny Britt during Monday's practice.
Quick Hits from Camp**

Rain forced some fans to retreat to their cars momentarily during Monday's practice, but it was short lived and most returned once the sun came back out.

Cornerback Jason McCourty made a diving interception on a pass from Vince Young that was intended for wide receiver Lavelle Hawkins.

Defensive end Eric Bakhtiari batted down a Kerry Collins pass, but Collins rebounded and hit Hawkins deep on a seem route.

Cornerback Ryan Mouton made a nice pass breakup on a pass from Rusty Smith.

Linebacker Will Witherspoon recovered a fumble after wide receiver Nate Washington was stripped.

During a team 'minus-territory' period in which the offense was backed up against its own goal line, both the offense and the defense gestured to the fans to make some noise and the crowd responded with enthusiasm.

Off the field Q&A with LB Jamie Winborn

What's your favorite thing about Nashville?

"I went to college here so my favorite thing would probably be the fans — the football atmosphere."

What did you do this offseason?

"I renovated two rental properties so I was pretty happy when I finished that.  That was pretty much the highlight of it."

What are your plans after football?

"My main hobby would probably just be rapping and working with kids.  I'll sit there and record a couple songs and then other times I'll go and work with some kids.  I work with kids a lot when I get the opportunity to, just teaching them how to train and other football-related skills."

What are your plans after football?

"Relax.  Relax, relax, relax…I tried to set it up to the point that I don't really have to do anything.  Just raise my kids and be there for them and support them in whatever they do."

Which one of your teammates is the best singer?

"You know, I heard (Stanford) Keglar singing but not seriously, but I believe he can really sing.  He sounded good just playing around."

Which do you prefer, Mac or PC?

Who do you think is the best linebacker in history?

"I'm a Jack Lambert fan, but I honestly think it would have to be either Derrick Brooks or Ray Lewis."

What was the best piece of advice you've been given?

"Just to stay humble and believe in God.  That's it, that right there will carry you the rest of your life."

What's your most memorable football moment?

"I was a part of a goal-line stand against Philadelphia in 2001 and it ended with a Derrick Smith interception. It was my fault they got down there so I felt good.  It was just a great atmosphere with the fans going wild and just having to make a play."

(on the day off on Sunday)

It was beneficial.  We had a good session this morning in the bubble.  It was kind of a stretch out and get the body back and they were very attentive this morning.  So it was good.  The time off was good.  They know we're in game mode and we've got two more days of shoulder pads and we're ready to go.

(on the differences in practice when preparing for a game)

They look forward to the day off on Saturday and now they look forward to a game.  You install, you go through all of those things.  We are not going to game plan Seattle's offense, defense and special teams but you have to present them with things that we're going to call.  So it changes by the middle part of the week.  This is what we're going with, this is what we'll do in these types of situations so make sure you know what to do.

(on the benefits of playing against Seattle as opposed to playing against each other)

Well it's really the first live work that we get so that is when … You know we've been evaluating under these circumstances and now we get to evaluate under game situations and circumstances which is beneficial for us.

(on the defense coming together)

Well they are coming together.  You go from one period to the next and the offense will make plays one period and the defense will come back and make plays the next which is good to see.  You know we had a screen pass, for example, that wasn't executed to perfection but Ryan Mouton knifes inside and bounces back outside and makes a good play for no gain.  So the play itself, there's a lot to learn from that.  Be correct on offense and then we praise and learn from the effort on defense.  I don't know if one side is ahead of the other right now but we're getting better.  Today was … Often times you take a break and you come back flat, but that was not the case today.

(on what he has seen from Marc Mariani)

Well, he's versatile in that he can return kickoffs, return punts, and make a lot of plays at that level in their offense.  Our scouts graded him and they had, as far as we can tell, an accurate grade on him.  He's a smart kid and gets in the right place and he's competitive and he makes plays.

(on Craig Stevens stepping up)

Craig (Stevens) has had a real good offseason.  He has increased his strength.  He's a very good blocker and he's getting open and making catches so we are pleased with the process.  It was his turn to step up.  It's the same thing with Jared Cook.  We knew that they would both step up and be able to make a lot of plays for us.

Daily Trivia Question(answer on Tuesday, August 10)

How many current members of the Titans roster have been on another NFL team's active roster during the regular season?* *

How many Titans were on National Championship teams in college?

Answer: Four: Donnie Nickey (Ohio State, 2003), Vince Young (Texas, 2005), Ahmard Hall (Texas, 2005) and Michael Griffin (Texas, 2005).