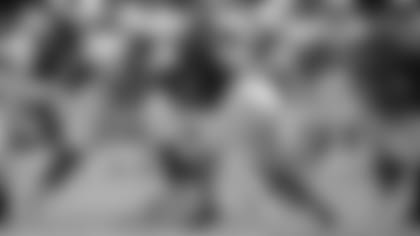 FLOWERY BRANCH, Ga. -- The Titans couldn't have asked for more from Monday's joint practice with the Atlanta Falcons from Flowery Branch, Ga. Players received plenty of reps. Some things went really well; other things will prove to need more work. Most importantly, no one got hurt.
Head coach Ken Whisenhunt discussed Friday that he was most excited to see how his players would match up with another team. Overall, the Titans head coach liked what he saw on Monday.
"It was a good day," said Whisenhunt. "We got a lot of good work. The best value of this is we get a chance to see our players compete against some other ones. Now we get to go back and look at it on tape, make our corrections and clean some things up."
Starting with the good -- all of the Titans skill players showed little problem getting open. Justin Hunter provided the spectacle during the 1-on-1 drills, making it look easy as he glided past defensive backs for consecutive long completions.
All of the Titans receivers had their moment on Monday. Jake Locker connected with Kendall Wright on a pass down the left seam for a would-be touchdown over Falcons cornerback Josh Wilson. Veteran receiver Brian Robiskie had the play of the day, laying out for a Charlie Whitehurst bomb down the middle of the field. Derek Hagan, Nate Washington, and Delanie Walker were also heard from often on Monday.
"Some of the things that have shown up for us in camp so far I really like seeing against another team," Whisenhunt said. "We had some guys make plays who have been making plays for us."
The defensive front seven led by Jurrell Casey consistently generated a strong pass rush on Monday, although was a bit too eager at times. Whisenhunt mentioned the numerous off-sides penalties as one of the top things that needs correcting.
"I didn't like our guys jumping off-sides," he said. "That's something we have to clean up. This is why we do this. We get a chance to see this. They're a little more amped up so that's going to happen. It's a good message to sell for games because we can't do that in games."
Jake Locker continued to look more comfortable with each passing day. Whisenhunt was happy to see the Titans QB make several strong throws from the pocket.
"[Jake] did good," Whisenhunt said of his starting quarterback. "I thought he handled himself well and moved in the pocket well. He made some good throws. Some of the protection things we have to do a better job as a group of working on, but we made some big plays. He made some good throws from the pocket with pressure on him."
The big health note of the day was that left guard Andy Levitre practiced after only returning yesterday from his emergency appendectomy. Levitre showed the desire to be a part of the joint practice and took three snaps per full team period as well as some work in the 1-on-1 drills.
"Andy said he wanted to come and do this," said Whisenhunt. "That was his goal. It was good to see him out there."
The biggest challenge of the day was going against players they were unfamiliar with. Training camp is all about improving as a team, which doesn't allow much time for game planning or watching film of an upcoming opponent. That unfamiliarity added to the challenge for Titans players; it will be a challenge they must go through again on Saturday against the Packers.
"We won't prep for Green Bay," Whisenhunt said. "We won't game plan them. We will just try to play them like this."
The kickers got another opportunity to prove themselves on Monday, getting five attempts each from identical spots. Maikon Bonani made four out of five field goals with his only miss coming from 46-yards out. Travis Coons, meanwhile, went five for five. Whisenhunt mentioned again that it won't be until Saturday's game before either guy can separate themselves in the competition. Whisenhunt also said he has confidence that one of those two kickers will be the Titans guy come week one.
The Titans have Tuesday off before returning to Saint Thomas Sports Park on Wednesday at 9:20 a.m. for another open practice.