NASHVILLE, Tenn. —** Titans head coach Mike Vrabel visited Saint Thomas Midtown Hospital to meet Tim Adams, Saint Thomas Health's new president and CEO. Saint Thomas Health is part of Ascension, the nation's largest Catholic and nonprofit health system.
Adams became president and CEO of Saint Thomas Health, as well as senior vice president of Ascension Healthcare and ministry market executive for Ascension Tennessee, on Jan. 1. Adams replaced Karen Springer who was promoted to president of healthcare operations for Ascension. Springer had led Saint Thomas since 2015 and relocated to Ascension headquarters in St. Louis.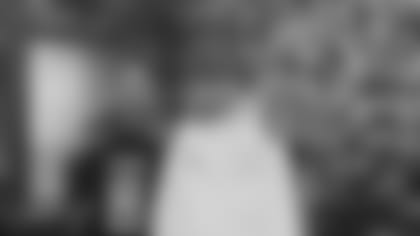 Adams presides over Saint Thomas Health's nine inpatient facilities in Middle Tennessee in addition to a network of physician practices, joint ventures and community partnerships. He previously served as Tenet Healthcare's Texas Region Chief Executive Officer. At Tenet, Tim led one of the company's largest regions, with 26 hospitals and net operating revenues of approximately $4 billion. Tim previously led the company's integration and operations team, during which he oversaw the integration of new hospital acquisitions as well as several enterprise-wide functions including business development, marketing, data analytics and the company's post-acute service lines.
Vrabel and Adams met in the new Titans FanZone Family Waiting Room and local WKRN News 2 reporter, Cory Curtis moderated discussion of new their roles with each organization. They kicked around what they love about living in Nashville, coaching, leadership styles and how they motivate their teams.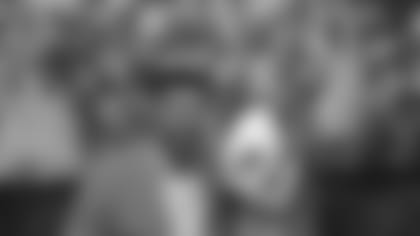 "We deliver more babies than any other health system in the state of Tennessee. We have a great group of caregivers and are proud of the trust and confidence our community places in our caregivers," said Adams. "Nashville is a beautiful place! Love the Tennessee mountains, love the people and it's a great place to raise a family. Also, love the energy, the excitement and the entertainment that we have."
"The excitement of the team is clearly a unique situation. Coming to a team that made the playoffs, that won nine games in a regular season and won a playoff game, it's very unique to be a head coach of that type of team. We are going to be as excited about the season as our fans are," Vrabel said. "Love the community and love the people!"
"We have the privilege of being involved in the work of restoring health and bringing new life into the world. It's sets a clear vision for where you want to go as an organization. Encouraging and rewarding good behavior, staying focused on the vision of the organization and the higher purpose that we have," said Adams.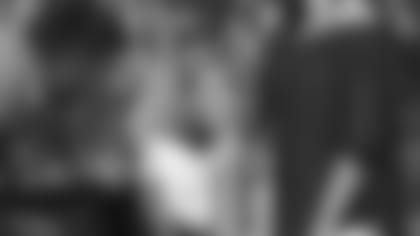 "My job and our coaches job is to teach, develop and inspire. When you inspire, that gives them confidence to do their job and it gives them trust in the coaches and what they are telling them," said Vrabel.
NICU families were invited to meet coach Vrabel, have their photograph taken and get an autograph. He also visited new families in the post-partum patient rooms.
Saint Thomas Health announced the opening of The Birthing Center last year, Nashville's first in-hospital natural birthing center, providing expectant families both the comfort of a home-like environment while also having the security of specialized clinical staff in the same building.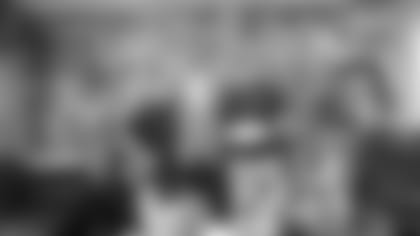 Saint Thomas Health recently made enhancements and additions to the Women's Care facilities to improve the experience for the thousands of families who deliver with Saint Thomas Health each year. New and enhanced Women's Care amenities at Saint Thomas Midtown Hospital include:
• The Birthing Center – Nashville's first in-hospital natural birthing facility
• Renovated, spacious labor and delivery rooms
• New premium post-partum suites
• A new Family Learning Center
• Tennessee Titans FanZone Family Waiting Area
At the end of the visit, Adams presented Vrabel with a personalized white physician lab coat and Vrabel presented Adams with personalized Titans jersey.
Every woman is unique, and Saint Thomas designed the new Women's Care unit to meet those unique individual needs. By expanding their services and amenities, it was their goal is to meet each expectant mother and her family where they are in their healthcare journey.
More moms trust Saint Thomas Women's Care to deliver their babies more than any other hospital in the state of Tennessee.
ABOUT SAINT THOMAS HEALTH
In Tennessee, Ascension's Saint Thomas Health operates nine hospitals in addition to a comprehensive network of affiliated joint ventures, medical practices, clinics and rehabilitation facilities that cover a 68-county area and employ more than 8,000 associates. Across the state, Saint Thomas Health provided more than $92 million in community benefit and care of persons living in poverty in fiscal year 2017. Serving Tennessee for 15 years, Ascension is a faith-based healthcare organization committed to delivering compassionate, personalized care to all, with special attention to persons living in poverty and those most vulnerable. Ascension is the largest non-profit health system in the U.S. and the world's largest Catholic health system, operating 2,500 sites of care – including 141 hospitals and more than 30 senior living facilities – in 24 states and the District of Columbia. Visit www.sthealth.com.