NASHVILLE, Tenn. –** Michael Griffin walked in the door at Saint Thomas Sports Park as a bright-eyed youngster back in 2007, a first-round pick out of the University of Texas.
He played in 141 games over the next nine seasons, and also two Pro Bowls.
He shared his most memorable moments, and also a message to the fans.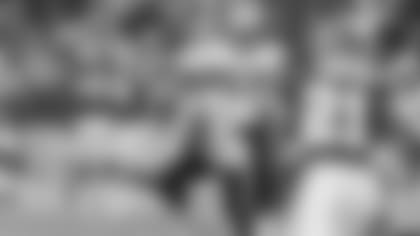 April 28, 2007 – Getting drafted 19th overall by the Titans
"I was in the office at my mom's house. Everyone was watching the TV, and I got that phone call, and it's like, 'OK, you're getting drafted by the Tennessee Titans.' A life-long dream was finally coming true, and I'll never forget it."
December 16, 2007 – Interception covering Chiefs TE Tony Gonzalez
"It was my rookie year. I was guarding Gonzalez on a seam route. He's a Hall of Fame player, and he's the guy the tight end position is modeled after. He was the guy. I still have that football."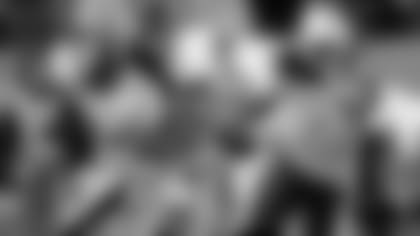 December 21, 2008 – 83-yard interception return for TD vs. Steelers
"We had to win that game to be the first seed in the playoffs. Ben Roethlisberger threw it, and I was able to get it. It was my only career touchdown, and it was pretty significant. I remember it was the longest run ever. I ran down the right sideline, came all the way back, and I remember I stiff-armed Ben down, and had to cut back and score. I was out of gas at the end, but it was worth it. We got the win."
November 29, 2009 – Win over Cardinals on 99-yard drive led by Vince Young
"Vince threw a touchdown to Kenny Britt to win in on the last play of the game. To see that smile on Vince's face … I'd seen him do it before, in the Rose Bowl and many times in his NFL career, over and over again. It just showed what kind of quarterback he could have been."
November 28, 2010 - Cortland Finnegan-Andre Johnson fight
"Just the whole thing. I remember Cortland winking at me, and when he winked at me, I knew something was going to happen. Cortland didn't have a plan that day, but I remember one play Andre Johnson ran a reverse, and Cortland hit him, had a good tackle on him, and Andre Johnson kind of pushed him in the back on the next play. Then Cortland winked on me, and I was like, 'I don't know what that means, but I know something is about to happen.'"
December 17, 2012 – Two interceptions in 14-10 win over vs Jets
"Jason McCourty and I had two interceptions each in that game, and it was memorable because the second one sealed that game. And to have two, and Jason is a guy I was close to. So it meant a lot."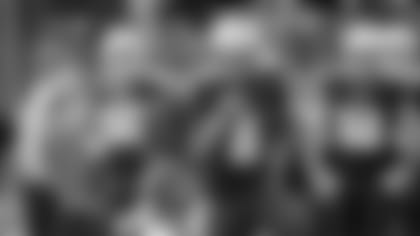 December 6, 2015 – Marcus Mariota's 87-yard touchdown run vs Jaguars
"I think one of the best things I've seen is to see that, and see where this franchise is going. Watching him run that for a touchdown. That was probably my biggest memorable moment, just seeing where this team is going and which direction. To see Mariota make that run, that was exciting."
Michael Griffin's message to fans:
"There wouldn't be No.33 for the Titans, with the dreadlocks hanging out the helmet, if it wasn't for the fans. I appreciate everything, the good and the bad. The fans here deserve a winning team, and I strongly believe (General Manager) Jon Robinson and (Coach) Mike Mularkey, and (DC) Dick LeBeau and (OC) Terry Robiskie, I believe they're going to put this franchise in the right direction. I wish all my teammates the best, too. The day I walked in the door here I knew my time was going to come, this game is not forever. I have to thank the Adams family, and everything they did. It was a dream come true as a kid, and I am so thankful for the last nine years and for the chance to play in Tennessee. It was fun. The fans have been so good to me, and I can't thank them enough. I wish the organization the best. The Titans deserve to have a winning football team, and I feel like they're going to have it in the near future. I really do."
A first-round pick (19th overall) by the Titans in 2007, two-time Pro Bowl safety Michael Griffin tallied 25 interceptions, seven sacks, 11 forced fumbles and six fumble recoveries during his nine seasons in Tennessee. (Photos: Donn Jones, AP)