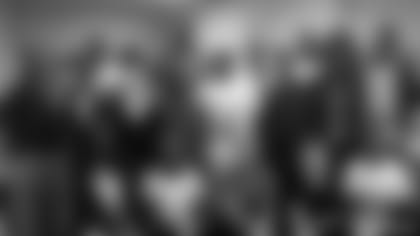 Linebacker Gerald McRath visits with students at John Early Middle School on Titans Tuesday.
NASHVILLE, Tenn. -- Titans linebacker Gerald McRath surprised students and faculty at John Early Middle School on Tuesday (9/19) for the second week of the Titans Tuesdays school program.
McRath was the guest of honor at a special school-wide assembly to encourage the youth and share his personal message. The school was chosen to participate in the Titans PLAY 60 Challenge and McRath was on hand to speak about the program.
John Early students will participate in the Titans PLAY 60 Challenge to become more physically active and will receive various prizes at the end of the challenge.  McRath also stressed the importance of leading an active lifestyle which includes a healthy diet that includes low-fat, high fiber foods, low-fat dairy, fruits, vegetables, lean meats and whole grains as well as encouraging the students to get at least 60 minutes of active play per day.
McRath told the students that he wouldn't be the player he is today if he hadn't made good choices.  During the assembly he also talked about the importance of staying focused during the week, making homework a priority before outside activities and staying positive.
"We spend more hours in the classroom preparing for the game than we do on the field each day," said McRath.
McRath also spoke to the crowd about his journey to the NFL and told the students that he was always very active as a child.  "I was very involved in sports," said McRath.  "I didn't sit around and watch TV, I was doing something active.   That's important if you want to be a professional in life, not just an athlete, but a professional in the business world as well, whether it's a teacher, doctor or lawyer, you have to maintain a healthy lifestyle."
After the assembly, select students were chosen by the school for their leadership, grades and behavior to be PLAY 60 Ambassadors and spend additional time with McRath for a meet and greet opportunity.  The students were able to ask questions and were given an autographed poster and PLAY 60 materials.  The school's administrators said the students greatly enjoyed the opportunity to meet McRath and be recognized as school leaders and appreciated the encouragement to lead a healthy lifestyle.