**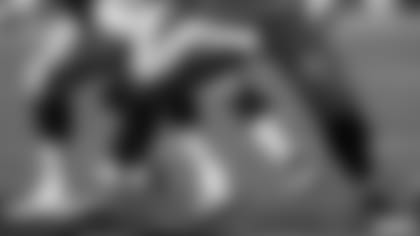 Center Kevin Mawae is the Titans' recipient of the 2009 Ed Block Courage Award.
NASHVILLE, Tenn. –** Seven-time Pro Bowl center Kevin Mawae was named by his teammates as the recipient of the 2009 Ed Block Courage Award, which is presented to one player from every NFL team who exemplifies a commitment to the principles of sportsmanship and courage.
Mawae is a part of an offensive line that has helped open holes for the NFL's second-ranked rushing offense this season. Additionally, the Titans' offensive front has allowed just 15 sacks in 15 games in 2009, which ranks second in the NFL.
Mawae was a member of an offensive line that helped open holes for Titans' rushers to gain 305 rushing yards against Jacksonville (11/1/09), the second most yards on the ground in franchise history. A 16-year veteran, he leads all active NFL offensive linemen with 240 regular season games played.
Beyond his play on the field, however, Mawae was recognized by his teammates for his determined effort in returning from a difficult injury. On Dec. 18, 2008, he tore the triceps tendon in his right elbow in a game against the N.Y. Jets. He underwent reconstructive surgery on Jan. 21 and began a grueling seven-month rehabilitation process.
His resolve paid off when he returned to the field in the third preseason game of 2009 at Cleveland. He was on the field two weeks later for the regular season opener at Pittsburgh and has started all 15 games at center this season.
Previous Titans recipients of the award include Steve McNair (1999), Kenny Holmes (2000), Kevin Dyson (2001), Eddie George (2002), Kevin Carter (2003), Keith Bulluck (2004), Tank Williams (2005), Brandon Jones (2006), David Thornton (2007) and Chris Hope (2008).
The Ed Block Courage Award is named in honor of Eddie Block, who served 23 years as the head athletic trainer for the Baltimore Colts, and is part of a fundraising effort to help abused children in various NFL cities. Mawae will join the winners from the other 31 teams for the awards presentation in Baltimore, Md., on March 7-10.