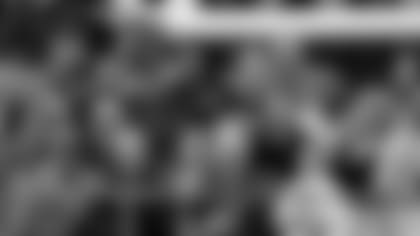 Marc Mariani spikes the ball after scoring on a 79-yard punt return at Carolina on Sunday.
CHARLOTTE, N.C. -- Marc Mariani gave Damian Williams a reason to smile early, and Williams reciprocated the act to Mariani again and again on Sunday.
Mariani returned a punt 79 yards for a touchdown the first time a Titan touched the football against the Panthers, and Williams caught five passes for 107 yards, including a 43-yard touchdown.
"That's the first time that we've scored on the same day, so hopefully we can keep it up," Williams said.
Mariani and Williams are great friends on and off the field. Both launched their careers last season in competition for roster spots. Mariani, a walk-on at Montana and seventh round pick, and Williams, a third-round selection out of Southern California, won positions and quickly bonded.
Mariani received more opportunities as a kick returner last season and made the Pro Bowl as a return specialist. Williams was ahead of Mariani on the depth chart as a receiver and played in all 16 games last season but was behind receivers with more experience.
The departures of veterans Justin Gage and Randy Moss, combined with the season-ending injury to Kenny Britt elevated Williams to a starting role on Oct. 2. He's caught four touchdowns in the six starts he's made and is showing growth and development at the position.
"He's just getting better every week," Titans coach Mike Munchak said. "I think you're seeing that and that's what we try to tell him. This league is that way. It's his first year starting and he's been making some great plays. He's been making some great catches. Last week's catch in the end zone was an awesome catch. He's got confidence. You can see it growing and it makes him get that first play."
With Nate Washington (hip), Lavelle Hawkins (finger) and Jared Cook (knee) banged up, the Titans called on Williams to do more against the Panthers, and he delivered in the 30-3 road victory.
Quarterback Matt Hasselbeck went to Williams on his fourth pass of the game. Williams showed alertness and athleticism. Facing third-and-8 from the Carolina 43-yard-line, Williams saw that the Panthers were blitzing, quickly turned to check on Hasselbeck, made the grab shy of the first down and turned it into the longest catch of his career.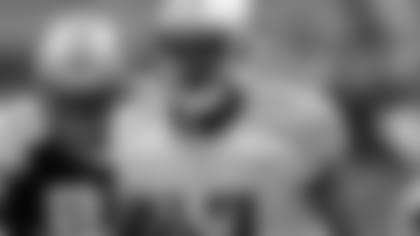 Damian Williams caught five passes for a career-high 107 yards and a TD at Carolina.
Williams caught the ball at the 38-yard-line when he needed to get to the 35. He spun immediately to elude the grasp of Darius Butler, then sidestepped Sherrod Martin near the 35 and sprinted the rest of the way to the end zone.
"I knew what the down and distance were," Williams said. "I knew I had to get out there and try to get the first down but they brought a blitz with two linebackers in the middle. Matt threw it out there quickly and gave me time to make a move."
Hasselbeck showed the growing confidence in Williams on a "go route" in the third quarter. After a penalty gave the Titans a first-and-5, Tennessee took a chance on the deep ball. Hasselbeck dropped in a long throw for Williams, resulting in a 40-yard gain that set up one of three field goals by Rob Bironas.
"Dude, I love watching him play like that," Mariani said. "I'm his biggest fan. I can't tell him that to his face (joking), but I'll be the first one to congratulate him every time. That's my guy."
Williams also joked while Mariani was within earshot during post-game interviews Sunday, saying "I think there's a little more pressure on me than him" with a wink. He quickly added, "but he did a hell of a job on that punt."
Mariani's punt return, the second longest of his career, gave the Titans a surge of momentum and snapped a scoreless streak that lasted the final two quarters against Cincinnati. Mariani trotted toward the Carolina sideline, tracking the ball through swirling wind, secured it and saw plenty of running room.
"We've been so close all year," Mariani said. "The 10 guys in front of me have been working their butts off, and it's a credit to them because they made it look easy. I look up and see nothing but holes and open field, it makes my job look easy."