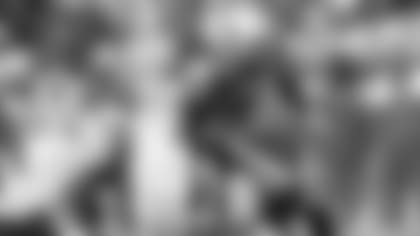 Rob Bironas began the 2011 season as the fourth-most accurate kicker in NFL history, having made 85.6 percent of his field goal attempts.
NASHVILLE, Tenn. — The snap, hold and kick of a field goal are a three-part harmony that lasts 1.3 seconds or less.
Ken Amato snaps to Brett Kern who readies the ball for Rob Bironas. Amato joined Tennessee in 2003, Kern in 2009, and Bironas has called Nash­ville home since 2005. They've made "good" field goal music much more often than not.
"We have a rhythm. I know when that ball's coming and when to start. There's basically no room for error. We have a great operation," Bi­ronas said. "It's 1.3 seconds from snap to kick at the most. We get a lot of them down in 1.26, 1.25. It's five-hundredths of a second, but that difference is being blocked or not being blocked. I've got faith in them; they've got faith in me."
Bironas began the season as the fourth-most accurate kicker in NFL history, having made 85.6 of his field goal attempts. He's continued that marksmanship this season, making 20 of 23 (87 percent) attempts and is 27-for-27 on points after touchdowns. That accuracy stems from quick execution, trust and practice.
The path that Bironas took to the NFL was much less smooth. The Louisville, Ky., native played two years of football and four years of soccer in high school. He walked on at Auburn and earned a football scholarship. A coaching change his senior year left him without a schol­arship, so he transferred to Georgia Southern to finish his college career, then transferred back to Auburn to finish his degree in spring 2001.
Green Bay signed him in April 2002 and cut him that August. Tampa Bay gave him a brief look in August 2003, and he spent the 2004 training camp in Pittsburgh but didn't make the roster. He kept kicking, however, by playing arena foot­ball for three different teams in those three years before signing with the Titans in June 2005.
"Between college and getting here in Tennes­see I think I lived in 11 different cities in four-and-a-half years," Bironas recalled. "The shortest was Tampa for three weeks."
Bironas persevered through that stretch un­til he won the kicking spot during 2005 training camp. Even then, he didn't have job security.
"It was good to finally get the job here but my first three years I was a week-to-week contract, so it wasn't that secure at all," Bironas said. "My first year I actually lived in a hotel because I've seen too many guys play one game, two games, five games and get cut after one bad kick. In our position, the first contract is all week-to-week. Nothing's guaranteed."
Bironas made a franchise-record four game-winning kicks in the 2006 season, including his career-long 60-yarder to help the Titans beat Indianapolis 20-17 and a 49-yarder the week before in a 24-21 win against the New YorkGiants. Bironas is the only kicker to make game winners against Eli Manning and Peyton Manning in consecutive weeks.
Bironas also set an NFL record by making eight field goals in a game against Houston in 2007. He donated the cleats and football from that game to the Pro Football Hall of Fame and played in the Pro Bowl that season, but an­other kick came to mind when asked about the biggest ones of his career.
"One that really sticks out is preseason '05 — my rookie year. I had a 53-yarder with 12 seconds in the game to send us into overtime," Bironas recalled. "To me, that was the first clutch kick I made at this level with the Titans. Most people think, 'Preseason?' but that one was big to me because it kind of put my name on the leaderboard for the job that I have now."
Bironas connected on three field goals (48, 27 and 44 yards) Sunday in a win at windy Buffalo. It was the sixth consecutive week in which Bironas has made at least one field goal from more than 40 yards. He is the most accurate kicker from that distance and beyond in the NFL since 1970.
Kern takes the snaps and sometimes spins the ball and tilts it before Bironas sends it through the air and through the uprights. Kern also serves as the football equivalent of a golf caddy for Bironas before each attempt. They have grown close over the past couple of sea­sons by rooming together on road trips.
"The relationship we have on and off the field is really good," Kern said. "With him kicking field goals, I've kind of figured out when he's off or re­ally on and how he wants the ball held. I kind of help him out with wind and certain situations to do the best he can. It's a good operation."
Once his job status as Tennessee's kicker be­came more established and he was able to plant roots in Nashville, Bironas began working with charities. He founded The Rob Bironas Fund, which raises money for music education pro­grams in Middle Tennessee. He blogs and sells items like autographed mini footballs, T-shirts, hats and wristbands to raise money for the fund at www.robbironas.com.
"Here in Music City, I thought what better way to try to give back to the kids with music edu­cation and help promoting it and helping push it where it's cut from school budgets," Bironas said. "We know what it does scholastically for kids. It creates a lot of the same drives I had in the sports world. Not everybody is athletically inclined, but you can sit down and learn music. You might not be the best in the world at it, but everybody can sit down and learn it."
Bironas said he enjoys all types of music, from country to rock to rap, hip-hop, rhythm and blues and the orchestra at the Nashville Symphony. He said he believes music teaches children values such as discipline, responsibility, determination and hard work.
"I think everybody enjoys music, from waking up in the morning with your alarm clock, to lis­tening to the radio, to putting on a headset when you're working out," Bironas said.
He also enjoys helping with teammates' non-profit organizations, and served as voluntary chair of the Make-A-Wish Foundation, helping give out the organization's 1,000th wish last year. He said volunteerism is the "easy part" of being a professional athlete and the most rewarding.
"When you meet these kids, you know they're making a difference," Bironas said.