After playing against Western Michigan's Corey Davis in the 2015 Popeyes Bahamas Bowl during his final season at MTSU, Byard knew big things were ahead for the big receiver.
"He lit us up,'' Byard said of Davis, the team's fifth overall pick of the NFL Draft, on Thursday. Davis had eight catches for 183 yards and an 80-yard touchdown vs. MTSU.
"After the game I knew that he was going to go first round. I didn't know when he was going to go in the first round, but I knew he was first-round talent. It is a blessing to have him on the team because he is a big-time receiver and he is going to be a big-time receiver for years."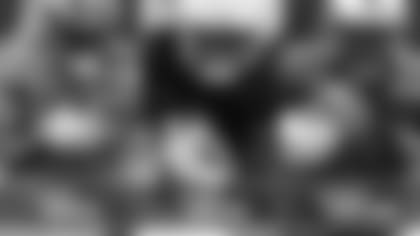 Byard made his comments while at a Titans Caravan stop at Academy Sports. It turns out the former MTSU star played against three of the team's first four draft picks while in college.
In addition to Davis, Byard competed against both of the team's third round picks as well – Western Kentucky receiver Taywan Taylor and Florida International tight end Jonnu Smith.
"All those guys bring a different aspect to the game,'' said Byard, a third-round pick in the 2016 draft. "Corey Davis, he's a guy who can play on the outside, and he can take a top off a defense. Taywan Taylor can catch screens and do whatever from the slot. And Jonnu Smith is going to be able to come in and learn from Delanie Walker and be able soak up the game from him and still be a threat when he comes in. So it just brings a different dynamic to the game and teams are going to have to game plan against that."
Davis lit up more than just MTSU, of course. In 2016, Davis caught 97 balls for 1,500 yards and 19 touchdowns. His 5,278 career receiving yards is an FBS record, and he ranks second in NCAA history in career receiving touchdowns with 52.
"For a guy to be 6-3 and 200 pounds who has a lot of speed and can take the top off the defense, that is any quarterback's dream," Byard said. "And that is an element of our offense we kind of missed a little bit last year, a guy who can take the top off a defense. So he is going to add a different dimension to our offense. We already have the power running game and to have a guy who can stretch the defense, stretch the field, is definitely going to be something teams have to game plan against."
Taylor hauled in 253 passes for 4,234 yards and 41 touchdowns for the Hilltoppers. He caught 12 passes for 197 yards last season against MTSU, but Byard was a rookie for the Titans then.
He didn't escape unscathed, however.
"He scored a touchdown on me my senior season as well," Byard, with a smile, said of the 5-11, 203-pound Taylor. "He is a real shifty, really great receiver. He's a fast guy, a guy who can play the slot, play outside. He has been a productive receiver."
As for Smith, a 6-foot-3, 248-pounder, Byard said he's a unique talent.
Smith caught 178 passes for 2,001 yards and 18 touchdowns in his career. In a game against MTSU in 2014, Smith registered a career-high 140 receiving yards on eight catches, including three touchdowns.
"Me being at MTSU, we always beat FIU so I am definitely going to mess with him on that,'' said Byard, smiling again. "But he is a great guy, great (tight end), is muscular built. He kind of reminds you a little bit of Delanie Walker. … We are going to be glad to have him."
Byard said he's looking forward to competing against all three in practices.
He knows the defense will be challenged.
"I know on the field they are great guys, some of the top guys on their teams," Byard said. "I know they are going to be guys that will come in immediately and help us win a lot of games this year and a lot of games in the coming years.
"We are bringing in some competitive guys, guys who are going to have a chip on their shoulders. They will be ready to ball for sure."