**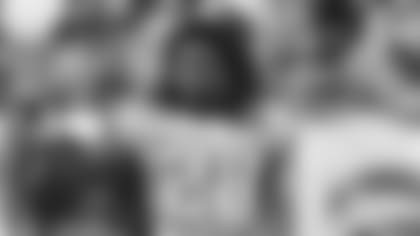 Chris Johnson is looking to become the first player in NFL history to record back-to-back 2,000-yard rushing seasons.
NASHVILLE, Tenn. -** The ink starts at Chris Johnson's neck, with wings tattooed just above his collarbone, reminding the world that he is the NFL's most recent member of the very rare club of 2,000-yard rushers. The Tennessee running back also has "Cause IM A Star'' perched just above a red star in the middle of his chest.
Dream big, then run faster than anyone else in the NFL.
Johnson used that combination to rush his way to NFL Offensive Player of the Year in 2009, becoming only the sixth man in league history to run for at least 2,000 yards. He's back for his third season with goals set even higher than a year ago: Run right past Eric Dickerson's NFL rushing record of 2,105 yards all the way to 2,500.
That would make him the first ever to run for 2,000 yards twice in a career with the added twist of doing it back-to-back. Dickerson didn't do it. Neither did Barry Sanders, Jamal Lewis, O.J. Simpson or Terrell Davis.
Johnson calls it his chip on his shoulder.
"It gives me something to look forward to. People might be like, 'Oh you run for 2,000 yards so he's content or whatever like that.' I haven't broken the record, so I still have something on my shoulder and something to work hard for,'' Johnson said.
Being voted the Offensive Player of the Year? Nice, but MVP is his target again. If he runs for 2,000 yards again, he reasons voters can't deny rewarding such a historic performance.
"I feel like I'm never satisfied,'' Johnson said. "I'm coming back in with the same mindset that I haven't done anything yet.''
Brash statements coming from a guy so soft-spoken that reporters have to push to get microphones close enough to hear him. But Johnson has the tools to back them up.
A native of Orlando, Fla., he finished second in the 100-meter dash in a state meet to eventual 2008 Olympic bronze medalist Walter Dix.
Only one college want him to play his preferred position of running back, but in his senior year at East Carolina he led the nation with 227.7 all-purpose yards a game. He posted a 4.24-second time in the 40-yard dash at the NFL combine, believed to be the fastest electronically measured time at the event dating back to 1982. When the draft started, four running backs were taken before the Titans grabbed Johnson at No. 24 overall.
He's been nearly unstoppable ever since.
He ran for 1,228 yards in 2008 and gave a glimpse in the Titans' second game last season how he planned to live up to his preseason boasts of running for 2,000 yards. He ran for 197 yards on 16 carries against Houston, a game featuring a 69-yard touchdown catch where he lined up wide left with no defender nearby so he waved at Kerry Collins to make sure the quarterback saw him.
No one's left him that wide-open since.
Johnson finished 2009 with 11 straight games of 100-yards rushing and needs only three more to match the NFL record for consecutive 100-yard games set by Barry Sanders in 1997. He set the NFL record for yards from scrimmage with 2,509 yards and became the league's first player to rush for at least 2,000 yards (2,006) and have 500 yards receiving. He also was the only unanimous pick to the All Pro team.
Only Dickerson and Edgerrin James had more yards from scrimmage through their first two seasons than Johnson (3,997).
Johnson immediately started lobbying the Titans to make him the highest paid offensive player in the NFL and stayed away from the team during the offseason. With the NFL's labor deal in its final year, he didn't get his wish.
The Titans did shuffle incentives Johnson already had satisfied but wasn't due to be paid for until 2012 into this year, adding approximately $1.5 million to his base salary of $550,000 - enough for Johnson to report to training camp on time. He knows another big season will force the Titans to pay him the more than $30 million in guaranteed money that he really wants.
Johnson followed the same workout plan that he used to reach 2,000 the first time. He stuck around the Orlando condo he shares with Jaguars receiver Mike Sims-Walker, a friend since grade school. In their free time, they stayed busy adding tattoos and even flew an artist up from Miami. Neither knows how many he has.
"Just a matter of liking tattoos and liking art,'' Sims-Walker said. "They're kind of like addictive. Once you get one, you want another and you keep going from there.''
Another of Johnson's ambitions: be as well known as Kobe Bryant or Michael Jordan. He shot commercials with his Nike and Powerade endorsements and has been on 17 different magazine covers now and counting. Johnson doesn't feel he should change his dreadlocks, gold teeth or tattoos just to fit what others think companies want.
"As long as you the best running back in the league and perform on the field, it's going to be hard for companies to shy away from you,'' Johnson said.
Coach Jeff Fisher likes how his running back performs on the field. He also doesn't mind that Johnson sets big goals because he knows how tough it is for defenses to catch the 5-foot-11, 191-pound back. Not only is he amazingly fast, Johnson is even more dangerous because he can change direction in the blink of an eye.
"It causes them to adjust their angles and flatten out,'' Fisher said. "When they flatten out, then they subject themselves to being vulnerable to the cutback. If you protect yourself from the cutback, he will run by you.''
Arizona cornerback Dominique Rodgers-Cromartie trained some with Johnson before the draft, and the two friends visit often in the offseason. He thinks Johnson can break Dickerson's record.
"He's patient, and he has the ability to explode real fast,'' Rodgers-Cromartie said.
Titans tight end Bo Scaife has watched defenses try to prepare for Johnson's speed, which Scaife calls impossible because no one is as fast as the running back. Scaife never thought anyone could rush for 2,000 yards in consecutive seasons until being around Johnson.
"I do think he has a legitimate shot of going for 2,000 again, separating himself from all the other players is his speed. He can take one from 99, 100, so I don't know too many guys in the history of the league that have been able to do that like he can. I'm very confident he can do it,'' Scaife said.
Titans fullback Ahmard Hall, who has the locker right next to Johnson, believes topping Dickerson's mark is within his teammate's reach. He noted the Titans spent so much time passing during their 0-6 start that Johnson didn't get as many carries as he might in the first few weeks this season. He also thinks Vince
Young will keep defenses from focusing solely on Johnson.
And all the big talk? Hall firmly believes in the ability to speak something into existence.
"I don't think anybody can stop him from getting 2,000 yards again this year,'' Hall said.
AP Sports Writer Mark Long in Jacksonville, Fla., contributed to this report.