**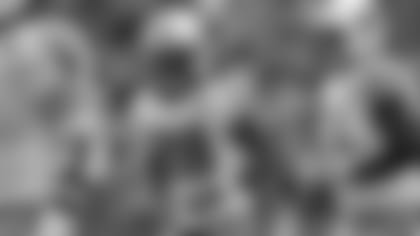 Chris Johnson broke Marshall Faulk's 1999 record for most scrimmage yards in a season.
SEATTLE -** Chris Johnson has set the NFL record for yards from scrimmage in a season, the first of multiple milestones within his reach in the Tennessee Titans' season finale.
The second-year running back caught a pass in the flat for a 9-yard gain in the second quarter Sunday at Seattle to break Marshall Faulk's 1999 record for scrimmage yards in a season. The play gave Johnson 2,254 yards from scrimmage.
Titans coach Jeff Fisher got the ball from a game official and tossed it to a team staffer.
Johnson was also closing in on joining Eric Dickerson, Jamal Lewis, Barry Sanders, Terrell Davis and O.J. Simpson as the only NFL runners to reach 2,000 yards in a season. He needed 128 yards for that mark.
Johnson entered Sunday needing 234 yards to break Dickerson's record of 2,105 yards rushing set in 1984. He needs 63 yards to break Earl Campbell's franchise record of 1,934 yards rushing set in 1980.