**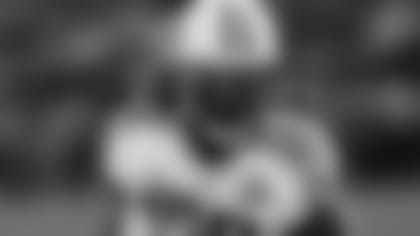 Chris Johnson said Dolphins receiver Ted Ginn was a no-show in a challenged race last summer.
DAVIE, Fla. --** When it came to talking trash about who's faster, NFL rushing leader Chris Johnson won going away Wednesday.
Johnson said speedy Miami Dolphins receiver Ted Ginn Jr. stood him up when they agreed to a foot race during a summer pool party on Miami Beach.
"We were going to race down Ocean Drive,'' said Johnson, who considers himself the league's fastest player. "I walked down to the street, and he never showed up.''
The subject arose during a conference call with South Florida media. Johnson and his Tennessee Titans play the Dolphins on Sunday.
Johnson said the race was arranged at a party last offseason attended by Ginn, Dolphins teammate Joey Porter and other NFL players.
"Him and Joey Porter were talking about how he could beat me,'' Johnson said. "When it came down to it, he was a no-show.''
Ginn said the idea for the race didn't come from him or Johnson.
"It wasn't anything like I didn't show up,'' Ginn said. "It wasn't like I went to him to say, 'Let's race.' There were some guys at the party who wanted to say who was faster, so they started the rumor. It's not like I'm denying it or I'm scared of him.''
"I feel like I could beat him,'' Ginn said. "He feels like he could beat me.''
Johnson was less diplomatic when asked if he's faster than Ginn.
"That's not even a legitimate question,'' Johnson said.
Is Johnson faster than Olympic champion Usain Bolt?
"That's a better question,'' Johnson said. "I think I would beat him like in the 50.''
Dolphins linebacker Channing Crowder declined to side with his teammate. He said Johnson would beat Ginn - and perhaps Bolt, too.
"He might roll Bolt in the 100,'' Crowder said. "Y'all don't know how fast that boy is. He is fast, fast, fast. Flat-out FAST - capital letters.''
Johnson has rushed for 1,626 yards this season and could become the sixth player to reach the 2,000 milestone. He had a time of 4.24 in the 40-yard dash at the NFL Combine last year.
Ginn is a former national prep champion in the high hurdles who played at Ohio State.
"He's pretty fast,'' Johnson said. "But a lot of people get it mistaken at the conference he played at. Was it the Big Ten? They're a slow conference. They don't have fast guys in that conference. It automatically makes him look like he's a real fast guy.''
Johnson said he has never taken part in the sort of challenge race arranged with Ginn.
"They say they want to,'' he said, "but they end up backing out.''