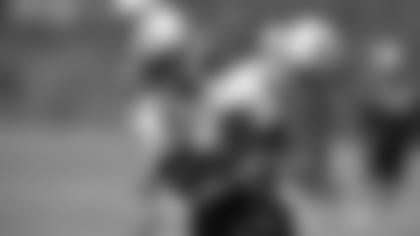 NASHVILLE, Tenn. —** Chris Johnson may be a little soft-spoken. He certainly isn't bashful.
The only rookie voted to the Pro Bowl in 2008, the Tennessee running back wasn't happy when he lost the NFL Offensive Rookie of the Year award to Atlanta quarterback Matt Ryan. Johnson called the voting bogus, even though Ryan led an 11-5 team to the playoffs and the running back finished a distant second.
Now Johnson is setting his sights a little higher for his second season: Lead the NFL in rushing. And oh yeah, league MVP.
"I want to be the best," Johnson said Friday.
"I never set a goal to be like, 'I'm going to set my goal this high so if I get close, it'll still be good.' I set my goal as high as I can set it, so I want to accomplish that. When I set my goal for offensive rookie of the year, I was upset. That's why I said it was bogus. When I set a goal, I really want to accomplish it."
A running back hasn't been named MVP since LaDanian Tomlinson in 2006, and only Shaun Alexander (2005) and Marshall Faulk (2000) have kept that award away from quarterbacks over the past decade. Steve McNair was the last player with Tennessee to be named MVP, and he shared that award with fellow quarterback Peyton Manning in 2003.
The last running back from this franchise to be named MVP was Earl Campbell in 1979 — the Hall of Famer's second NFL season with the then-Houston Oilers.
Titans assistant coach Earnest Byner never talked about his personal goals when he played. But he said he has talked with Johnson often about what the running back wants to do.
"I try to set the bar as high as he likes and try to push him to that," Byner said. "With having those goals, it's going to take a special effort. But it also takes a special man. It's probably going to take some adjustments in some of the things that he does for him to really get to that goal."
The Titans surprised most everybody by drafting Johnson with the 24th pick overall out of East Carolina in April 2008. He proved he could translate his 4.24-second speed in the 40-yard dash into production once he got on the field.
Johnson didn't play in a meaningless regular season finale and still finished third in the AFC and eighth in the NFL with 1,228 yards rushing on 251 carries sharing the work with LenDale White. Johnson scored 10 touchdowns rushing and finished second on the team with 43 catches.
Only Houston's Steve Slaton and Matt Forte of Chicago had more yards rushing among rookies, but both had more carries than Johnson. Slaton had 17 more carries but only 54 more yards.
Johnson led the Titans in rushing in 14 of 15 games. He put his dazzling speed and moves on display with 21 plays of 15 yards or longer with 40 going 10 yards or longer. He had 168 yards rushing at Kansas City on Oct. 19, second only in franchise history by a rookie to Campbell's 199-yard game in 1978.
And Johnson isn't alone in expecting more out of his second season.
"Often times, a rookie year ends up being kind of a blur, and then you come back the second year and you have a much better feel for things," coach Jeff Fisher said. "He is a very instinctive player, but we are looking for him to work on the little aspects of his game."
That involves better pass protection, especially on blitzes to protect Kerry Collins. The Titans also want Johnson to improve his pass catching and route running to allow them to use him even more in the offense and not just out of the backfield. They would like to be able to use his speed out of the slot or even further out to create mismatches.
"He's a smart guy, so he's picking up on the fact we want to use him a lot of different ways," Collins said.
Byner sees Johnson being more dangerous now that the running back recognizes how defenses are trying to stop him. The result of Johnson's year of NFL experience should make him more comfortable on the field in the offense and help him play even faster than as a rookie.
How important Johnson is to the Tennessee offense was never more apparent than in the Titans' 13-10 divisional playoff loss to Baltimore. Johnson had 72 yards on 11 carries and one catch for 28 more midway through the second quarter before spraining his right ankle so bad he missed the Pro Bowl a month later.
That is why the Titans have plenty of options to keep Johnson fresh. They drafted All-American Javon Ringer out of Michigan State and also have Rafael Little, who sat out last year recovering from a torn ACL, veterans Quinton Ganther and Chris Henry.
Fisher calls Johnson a team player.
"And if he happens to reach those goals, then you would think we would have a good chance to reach our team goals," the coach said.