**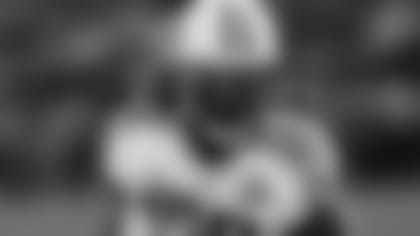 Chris Johnson is on pace to break Marshall Faulk's NFL record of 2,429 yards from scrimmage set in 1999.
NASHVILLE, Tenn. --** Chris Johnson has been running wild through NFL defenses. Up next is the porous
St. Louis Rams
, among the league's worst at stopping the run.
While the Tennessee running is licking his chops at the chance for another big game, he is trying to be politically correct.
"I'm going into it like they're one of the best defenses in the National Football League," Johnson said Wednesday. "Basically, I'm trying to go into every game like that. I don't try and like go into each game like this team is not as good and relax. I'm just trying to go into this game and stay consistent and put up big numbers."
How big? Well, Johnson posted a career-best 228 yards earlier this season, wouldn't mind topping 200 again. He is just the fifth running back in NFL history to reach 1,500 yards in his team's first 12 games.
"I hope I can do that if God keeps letting me do the things I've been doing," he said. "And I keep continuing to practice hard and stay on my film study, I think it will happen."
Johnson has been running very well this season and is on pace to become just the sixth to run for 2,000 yards. He currently has seven straight 100-yard rushing games to tie the franchise record with Hall of Fame running back Earl Campbell and can take that mark to himself with another such performance Sunday.
He also is on pace to top Marshall Faulk's NFL record of 2,429 yards from scrimmage set in 1999 with the Rams the season they beat the Titans in the Super Bowl. Johnson has 1,831 yards from scrimmage now including 322 yards receiving. He's averaging 152.6 yards a game, which would put him at 2,441 yards if he keeps it up through the final four games.
Rams coach Steve Spagnuolo said he considers Johnson a great back with tremendous vision.
"Sometimes there's guys unblocked, and he finds a way to get around them or through them. He's very, very quick. I think the cuts he makes at the line of scrimmage are just outstanding. He just has a knack, and of course his offensive line is playing really well too. The combination of those two things make it tough to defend," Spagnuolo said.
His Rams rank 28th in the NFL against the run, giving up 146.2 yards per game. But they have allowed four runners to top 100 yards this season with Maurice Jones-Drew going for 133 yards on 33 carries on Oct. 18.
This will be their first glance in person at Johnson, the only man in NFL history with three touchdown runs of 85 yards or longer -- all this season.
"I know they will try to give it they all," Johnson said.
This game also will feature the NFL's second-leading rusher in the Rams' Steven Jackson. He has 1,232 yards, and he met Johnson this offseason. Johnson said he tried to work out with Jackson in Las Vegas, but they couldn't connect.
Jackson is much taller and heavier at 6-foot-2, 236 pounds than Johnson who's listed at 5-11, 211 pounds. He has watched the younger back over the past two seasons and respects Johnson.
"He's the franchise back there. He doesn't split the carries a lot. He's a guy that catches the ball out of the backfield. He's real good at throwing himself in there in pass protection. He's a smaller guy, but he's not afraid to throw his body around," Jackson said.
Helping Johnson polish off a possible record-setting season isn't the top goal for the Titans (5-7), not while they remain mathematically alive for a third straight playoff berth. Coach Jeff Fisher said he is going to do what's best for his team and try to win games, even if it means getting more carries for LenDale White who has watched his touches dwindle.
"All those personal things are all well and good, but at this point we need to win the next game," Fisher said.
NOTES: Vince Young practiced Wednesday but was listed on the injury report with his right knee, which he hurt in last week's 27-17 loss at Indianapolis. ... Tight end Jared Cook (concussion) did not practice. Fisher said Cook is doing well and they are pleased where he is as they follow the NFL's new guidelines for his recovery.