INDIANAPOLIS – Meet Jalen Hurd, one of the more intriguing players in the NFL Draft.
Actually, many of you already know him.
Yes, this is the same Jalen Hurd who began his collegiate career at the University of Tennessee, before leaving school and finishing at Baylor. This is the same Jalen Hurd who played high school football just outside of Nashville, at Beech High in Hendersonville.
And this is the same Jalen Hurd who expects to run a 4.3 in the 40, which would elevate his draft stock.
Hurd wants everyone to know this about him:
"And I want them to know that I truly love this game and my mental toughness and what I put into this game is beyond anyone here," Hurd said. "You talk to me and you watch my tape, you can tell that I love football and I like contact and I like playing the game."
One of the nation's top recruits and a life-long Vol fan coming out of high school, Hurd played three seasons as a running back at Tennessee, appearing in 33 games. He led the Vols in rushing in each of his first two seasons, and finished fourth in the SEC in total rushing yards with 1,288 as a sophomore.
Hurd then abruptly left Tennessee in the middle of his junior season, and he ended up transferring to Baylor.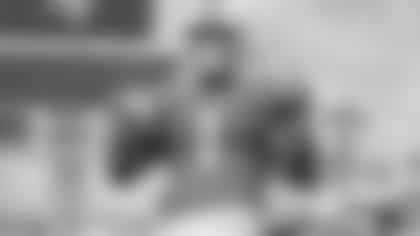 Here at the Combine, Hurd declined to go into details about his decision to leave Knoxville when speaking with reporters. He did say he suffered two concussions at Tennessee, and that he didn't want to play running back any longer because of concerns about head injuries and how his body felt.
Following Hurd's departure, reports of Hurd not seeing eye-to-eye with former Vols coach Butch Jones surfaced. Hurd left UT second in program history in carries (589), sixth in yards (2,638) and fifth in 100-yard games (11).
"I don't want to talk about that right now," Hurd responded when asked about why he left Tennessee. "I've talked (about) that with teams and that's between me and them. Other than that, we'll leave that in the past."
The 6-foot-5, 226-pounder played receiver at Baylor, and he played well.
After sitting out a season, Hurd finished the 2018 season with 69 catches for 946 yards and three touchdowns while being voted the Big 12 Newcomer of the Year by coaches. He finished the season ranked 10th nationally with 48 receptions of 10+ yards.
He thinks he proved his versatility in the process, while proving doubters wrong.
"Oh yeah. For sure. 100 percent. I'm sure everyone at the table probably doubted I was a good receiver," Hurd said. "But I wasn't trying to prove anyone wrong, per se. But I knew I could before I even did the switch. But I still have a lot more to do. That was just a small tier of what I'm going to do at the next level.
Now, Hurd wants to prove himself to NFL teams.
Because of a lingering injury, he won't run the 40 here. He'll wait to go through drills at his Pro Day later this month. He only did the bench press here, and did 23 reps.
But he's been busy talking with NFL teams.
"My versatility, going from a running back to receiver, I'm a true receiver," Hurd said. "But, also, you can also have an elite running back if I'm back in that position, as well.
"Absolutely (I'd play running back in the NFL). But I want to play receiver. I want that to be my main position, but I'm down to do anything. But my main position I want to be receiver."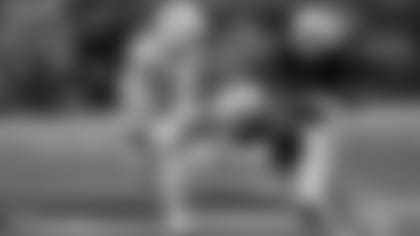 Hurd spoke with reporters for over 15 minutes on Friday in the media center at the Indiana Convention Center.
He was thoughtful with his answers, even while leaving the results of his departure from Knoxville intentionally vague.
But he made one thing clear: The journey to get here was worth it, and he's excited about what's ahead.
"Man, I've literally dreamed about it my entire life," Hurd said. "I've worked just as hard or harder than anyone in the league right now. I have all the tangibles to do it. I have the intangibles to do it. To sit there and grind out training camp and grind out the season, that's all I've done my entire life. That's all I want to do. So for me to come in and contribute right away is not a problem.
"It's amazing (to be here). I'm still kind of upset that I can't do the actual events and measurables, but I'll be able to make that up at Pro Day. But, anyways, being here is, honestly, a blessing. I've watched this as a little kid, watched all the videos, watched all the high school, all the college, you always see the Combine videos and everything. To actually be here in person to do this, it's really fun."