NASHVILLE, Tenn. – Ben Jones was just 10 years old when he received news that would change his life forever – his father had been killed in a freak helicopter crash not far from home.
A forester, Steve Jones was aboard a helicopter inspecting timber for insect damage when his aircraft went down. The crash killed Jones and the pilot.
In the wake of the tragedy, friends in the Brent, Ala., community rallied behind Jones and his family. His mother became "the rock." And the experience made a lasting impact on Jones, a five-year NFL veteran who is set to begin his second season as the starting center with the Tennessee Titans.
"During the tough times, our family made something of it," Jones said. "My dad's death was one of those accidents you never prepare for, but my mom was strong and a lot of kids benefited from it. It opened our eyes as a family. It's not about us, it's about helping others and giving other kids an opportunity."
[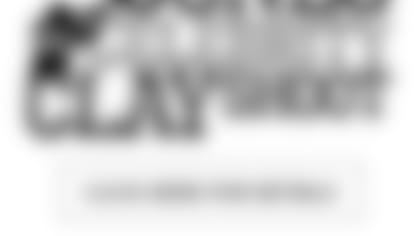 ](https://www.benjonesclayshoot.com/)
Jones is ready to give back to the Nashville community – and the Ronald McDonald House – by hosting the first annual Ben Jones Celebrity Clay Shoot on May 12 at the Nashville Gun Club. Spots still remain for those 18 years or older, including a number of team slots.
Roughly 20-25 Titans are scheduled to take part in the event, hosted by Jones and his wife, Alex. The event will directly benefit families staying at the Ronald McDonald House in Nashville by helping fund a kitchen remodeling project. For more information, or to make a donation, visit www.BenJonesclayshoot.com.
Jones said family and other friends have benefited from the Ronald McDonald House in the past.
"It is close to my heart,'' Jones said. "And it's close to the heart of my family and everyone I know who has benefited from it."
Jones, who played four seasons with the Texans before joining the Titans prior to last season, started all 16 games in Tennessee in 2016. He's played in 80 games, with 59 starts, in five seasons.
Jones said his childhood – he also fractured his skull when he was 10 when he was hit by a baseball bat and he lost a friend in a four-wheeler accident – helped shape him as an adult. Jones grew up in Brent, Ala., and played college football at Georgia.
"My dad was my little league coach growing up and when he passed, my mom and her father pretty much took over little league sports,'' Jones said. "She coached baseball, basketball and would drive me 45 minutes to wrestling practice every day. She did everything sports and academics. She was our rock, and I'll never forget that.
"Also, when my father passed away when I was 10, they started a foundation or fund to help benefit kids in youth sports and if anyone wasn't able to pay for their sports or didn't have a ride, our family would step up and help those kids financially so they could still play sports,'' Jones continued. "A lot of families in our hometown were single parents and we'd give them a ride in my mom's SUV or my granddaddy or uncle would give them a ride -- our whole team would be kids that needed a ride. I guess they weren't our friends starting out, but we were close afterward.
"You learn from experiences like that and it makes you want to help when you get a chance."