**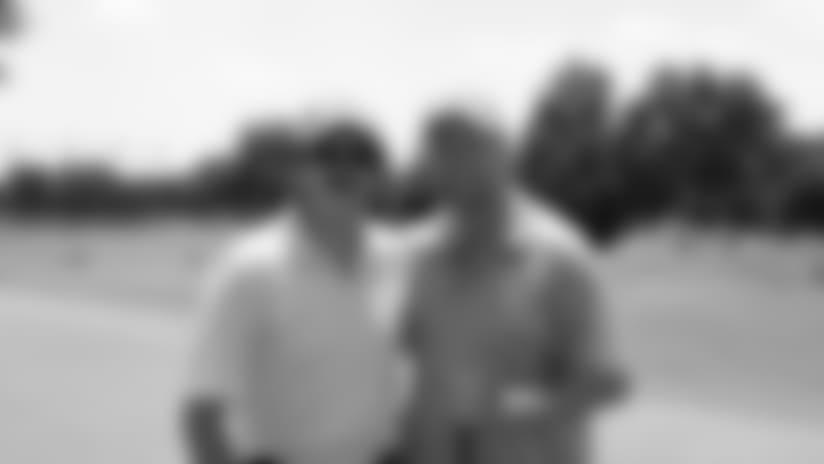 With the help of former Titans punter Craig Hentrich (right), the team of Dr. David Kemp (left) captured its 8th title at the 12th Annual Titans Charity Golf Classic Monday at Hillwood Country Club.
NASHVILLE, Tenn. --** After battling intense heat that rose to 97 degrees by early afternoon, the team of Dr. David Kemp, James McCord, Nick Shelton, Dean Goolsby and former Titans punter Craig Hentrich shot a 54 to capture its eighth tournament title at the 12th Annual Tennessee Titans Charity Golf Classic Monday at Hillwood Country Club.
Proceeds from the 11 tournaments now exceed approximately $1.4 million for the Titans Foundation, which was established in 1999 by team owner K.S. "Bud" Adams, Jr., and his late wife, Nancy.
"This event is always our biggest fundraiser of the year, and this year was nothing short of exceptional," said Don MacLachlan, executive vice president of Administration and Facilities for the Titans. "I want to thank the players and all of our staff, but most importantly, all of those people that paid to play, because all of the money raised goes back to help the various Titans Foundation programs."
Several Titans players and coaches played in the tournament, which was organized by the Titans' community relations department and heavily supported by players, coaches, cheerleaders, staff and volunteers.
Current and former players, coaches and staff taking part included: Ken Amato, Jason Babin, Dave Ball, Chuck Cecil, Cortland Finnegan, Justin Gage, Michael Griffin, Ahmard Hall, Jovan Haye, Mike Heimerdinger, Brad Hopkins, Mike Keith, Brett Kern, Alan Lowry, Sen'Derrick Marks, Dave McGinnis Jay Moore, Donnie Nickey, Mike Otto, Kennedy Pola, Marcus Robertson, Michael Roos, Rayna Stewart, Will Witherspoon and Frank Wycheck.
Golfers enjoyed brunch inside the luxurious clubhouse before teeing off at 11 a.m. Teams consisting of one Titans celebrity (player, former player or coach) and cheerleader joined in a five-person scramble format.
Fisher said the Titans Charity Golf Classic is an event the entire organization looks forward to each year.
"This is all for a great cause," said Fisher, who stayed on Hole 16 all afternoon to be in photos with each participating team. "We appreciate Hillwood Country Club giving us an opportunity to come out. There are a lot of players here and a lot of our staff is out. It's great to see everyone having a good time, while raising money for those in need."
Dr. Kemp, a long-time supporter of the event, was happy to be a part of another successful fundraiser for the Titans Foundation.
"This is a wonderful event and we just have a great time participating in it every year," Kemp said. "The Titans' organization does an outstanding job and makes it an enjoyable experience for everyone. It means a lot to be able to participate in this. The Titans Foundation is a worthwhile foundation and I'm just delighted to be in this community and to be able to participate."
The Titans honored the memory of Dr. Johnny King, a member of Dr. Kemp's team that won seven of the previous 11 events with King a member of that foursome.  King was an excellent golfer and the tournament's "Closest to the Hole" contest was named in his honor.  Prior to announcing the winner of that competition, Jeff Fisher awarded a game ball to Johnny's wife Glenda and their children.  The inscription on the ball stated "Game Ball Honoring Dr. Johnny King, seven time tournament champion and Titans Teammate Forever…June 21, 2010."
The day included three skills competitions and prizes, and trophies were presented to winners in the following categories:
Straightest Drive Contest: Mark Spivey
Longest Drive Contest: Dean Goolsby
Closest-to-the-Hole Contest Honoring Dr. Johnny King: Philip McCutchon
As play wrapped up by late afternoon, golfers were treated to a prime rib dinner prepared by Hillwood Country Club. A silent and live auction featuring autographed player items, trip packages and fantasy experiences raised additional funds for the Titans Foundation.
A luxurious road trip for eight people to the Titans/Colts game at Indianapolis on a Premiere Transportation Executive Coach went for $2,700 in the live auction, while a game day fantasy experience for the regular season opener vs. Oakland at LP Field went for $1,000. Some of the top silent auction items included an autographed authentic LeBron James jersey, an autographed fiddle by Grammy Award winning artist Charlie Daniels and a Tennessee Oilers helmet signed by every member of the 1997 squad, including Steve McNair, Eddie George, Bruce Matthews and Frank Wycheck.
By day's end, event organizers reflected on the great benefits the Titans Foundation received from yet another successful tournament. Since the team relocated to Tennessee in 1997, combined charitable gifts from Adams, the Titans Foundation and NFL Charities exceed $17 million. The foundation continues to offer financial support and other resources to non-profit organizations throughout Tennessee.
"It's really fulfilling to see all of these people come out here and have a great day and know that Mr. Adams and the Titans Foundation will be able to help others as a result of an outstanding effort by so many generous people," MacLachlan added. "It was another fantastic setting on a wonderful day at Hillwood Country Club."
CELEBRITY VIP EVENT SPONSORS: Coca-Cola, AT&T, LP Building Products, Saint Thomas Health Services, Wortham
CELEBRITY TEAMS: Capitol Records, Chartwell Hospitality, FIS - Music City Miracles, Forer the Titans, Frank Fuzzell, Hillwood Country Club, Joslin & Signs, Kemp Orthodontics, Loews Vanderbilt Plaza Hotel, Motorola, Spectrum Properties/Emery, Storage Systems, Waller Lansden Dortch & Davis