**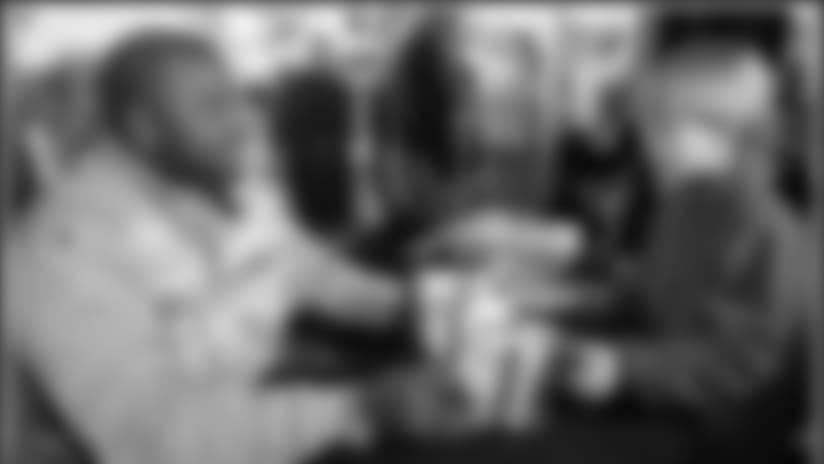 Haynesworth will sign an autograph for every pair of shoes that is donated to Soles4Souls on June 24.


NASHVILLE, TN, June 18, 2008 —** Most of us have lots of shoes we no longer wear. According to one estimate, more than one billion pair of shoes lay idle in American closets. Yet there are millions of people both here in the United States and around the world in desperate need of footwear.
That's why Albert Haynesworth and Shoe Carnival are teaming up with Soles4Souls, the international charity dedicated to providing free footwear to people in desperate need, providing a basic, yet indispensable gift that most of us take for granted -- the gift of shoes.
The All-Pro defensive tackle will be on-hand at Shoe Carnival (Cool Springs Galleria, 7085 Bakers Bridge Avenue, Franklin, TN, 37067) on Tuesday, June 24 from 3-7 p.m. to sign one autograph for each pair of new or "gently worn" shoes that are donated to Soles4Souls. New shoes will be available in select styles and clearance priced starting at $5 at the Cool Springs Shoe Carnival.
Haynesworth hosted a signing earlier this year at Shoe Carnival that drew over 500 fans. He is hoping even more fans will come out to join him for this worthy cause.
"The last signing had a wonderful turnout, so I thought it would be a great idea to give back to a worthy cause like Soles4Souls at the same time," said Haynesworth. "I know that fans will clean out their closets and keep me very busy signing autographs all day."
"We are happy to offer Shoe Carnival customers the opportunity to meet Albert and donate their shoes to Soles4Souls," said Steve Meyer, Senior Vice President of Store Operations. "Soles4Souls' mission to provide shoes for those in need is a message that resonates with our customers. We hope this will be a memorable experience for everyone involved."
"We are thrilled that Albert and Shoe Carnival have chosen to partner with Soles4Souls," said Wayne Elsey, Founder and CEO of Soles4Souls. "The shoes donated by Albert's fans will make a huge impact on the lives of thousands of people in desperate need."
About Soles4Souls
Nashville-based Soles4Souls™ facilitates the donations of both new and used shoes, which are used to aid the hurting worldwide. Since its inception, Soles4Souls has collected more than 3 million pairs (or one pair every 28 seconds) from shoe companies, retailers, and individuals. The shoes have been distributed in more than 60 countries, including Mexico, Honduras, Romania, Thailand, and the Sudan. The charity has been featured on CNN Headline News, NBC Nightly News with Brian Williams, ABC News, FOX, CBS, and hundreds of regional outlets around North America. Soles4Souls is a 501(c)(3) recognized by the IRS; donating parties are eligible for tax advantages. Visit www.giveshoes.org for more information.
About Shoe Carnival
Shoe Carnival is a chain of more than 290 footwear stores located in the Midwest, South and Southeast. Combining value pricing with an entertaining store format, Shoe Carnival is a leading retailer of name brand and private label footwear for the entire family. Headquartered in Evansville, Ind., Shoe Carnival trades on the NASDAQ Stock Market LLC under the symbol SCVL. www.shoecarnival.com